Asian Games 2023: Learnt from last campaign, says Indian hockey skipper after 16-0 win over Uzbekistan - WATCH
India's men's hockey team secures a dominant 16-0 victory over Uzbekistan in their Asian Games 2023 campaign, with Lalit Upadhyay, Varun Kumar, and Mandeep Singh each scoring a hat-trick.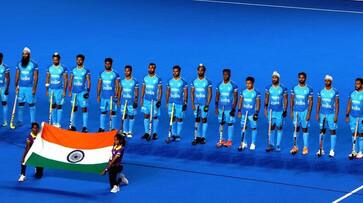 Lalit Upadhyay, Varun Kumar, and Mandeep Singh each recorded a hat-trick as India commenced their men's hockey journey at the Asian Games2023 with an astounding 16-0 victory over the lowly-ranked Uzbekistan on a Sunday. India, ranked third globally, entered the match as clear favorites against the 66th-ranked Uzbek team, and they indeed dominated the entire game in their Pool A encounter. Lalit scored four times (7th, 24th, 37th, 53rd), Varun netted four goals as well (12th, 36th, 50th, 52nd), and Mandeep found the net three times (18th, 27th, 28th minutes).
Abhishek (17th), Amit Rohidas (38th), Sukhjeet (42nd), Shamsher Singh (43rd), and Sanjay (57th) added to the scoring spree as India effortlessly outplayed the Uzbek defense throughout the match.
India's skipper, Harmanpreet Singh, did not participate in the game as he was given a rest, having fulfilled the role of joint flag-bearer, alongside Olympic medallist boxer Lovlina Borgohain, during the Asian Games' opening ceremony on Saturday. However, Harmanpreet Singh stated that the team has learnt a lot from the 2018 campaign where India finished with bronze medal.
From the very beginning, it was an absolute display of dominance by the Indian team, taking just seven minutes to break the deadlock. Once they achieved that, chaos ensued for Uzbekistan.
India earned a substantial number of penalty corners, a total of 14 in the entire 60 minutes, yet they were able to convert only five, which might be a cause for concern for the team's chief coach, Craig Fulton.
However, what was truly heartening was the performance of India's forward line, seamlessly connecting with the midfield to score 10 goals. One goal came from a penalty stroke in the 36th minute.
India had their first scoring opportunity in the fifth minute, but Abhishek's close-range shot was saved by Uzbek goalkeeper Davlat Tolibbaev. Shortly after, Sukhjeet won India's first penalty corner, but Tolibbaev denied Sanjay's flick.
Nonetheless, India broke the deadlock moments later when Lalit capitalized on a rebound after Tolibbaev had made a double save. In the 12th minute, Varun doubled India's lead by converting a penalty corner with a powerful low flick past the Uzbek goalkeeper.
At the beginning of the second quarter, India earned another penalty corner, but once again, Tolibbaev thwarted Sanjay's attempt. Mandeep, apart from scoring, was a dynamic force upfront, setting up goals with his exceptional dribbling skills.
Abhishek scored India's third goal in the 17th minute, executing a brilliant spin to outmaneuver his marker and tap the ball past Tolibbaev after a superb setup by Mandeep from the left flank. Just minutes before halftime, Mandeep added two more goals to his tally within a minute.
India continued to earn penalty corners, two more within three minutes, but failed to capitalize on them. At halftime, the reigning Olympic bronze medallists held a commanding 7-0 lead.
The pattern persisted after the halftime break as both Indian goalkeepers, PR Sreejesh and Krishan Bahadur Pathak, who alternated throughout the game, had minimal involvement, with the action primarily occurring on the opposite side of the pitch.
In the last two quarters, India appeared even more formidable, scoring nine additional goals. Four came from penalty corners, one from a penalty stroke, and the remaining four from field play, securing a resounding victory for Craig Fulton's squad.
Next up, India is set to face Singapore in their upcoming pool match on Tuesday.
Last Updated Sep 24, 2023, 11:54 AM IST