Asian Games 2023: Sharath Kamal's stunning comeback fires India's Table Tennis team into quarterfinals
In a nail-biting clash at the Asian Games 2023, India's table tennis team secured a thrilling victory to advance to the quarterfinals. The spotlight was on the seasoned player, Sharath Kamal, who staged a remarkable comeback in a tense match against Kazakhstan. Sathiyan Gnanasekaran and Harmeet Desai also played pivotal roles in India's resurgence, ultimately propelling them into the quarterfinals of the team event.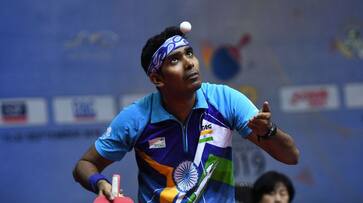 The Indian men's table tennis team displayed remarkable resilience as they secured a place in the quarterfinals of the team event at the Asian Games. In an intense battle against Kazakhstan, India found themselves in a tight spot, but the seasoned player Sharath Kamal emerged as the hero with an outstanding comeback.
In the round of 16 match between India and Kazakhstan, Sharath Kamal initially faced a setback, losing the opener 1-3 to Kirill Gerassimenko. However, Sathiyan Gnanasekaran's determined performance helped India bounce back with a 3-0 victory in the second match against Aidos Kenzhigulov.
Harmeet Desai continued India's resurgence by defeating Alan Kurmangaliyev 3-0, briefly giving India a 2-1 lead in the tie. Sathiyan had an opportunity to seal the victory but found himself in a thrilling clash with Gerassimenko, eventually losing in the decider.
The tie ultimately came down to the decisive match between Sharath Kamal and Aidos Kenzhigulov. Sharath Kamal faced an early setback, dropping the first two games. However, he displayed remarkable determination, winning the third game.
In a dramatic turn of events, Sharath Kamal leveled the match at 2-2 by clinching the fourth game. The fifth and final game was a nail-biting affair, with Sharath Kamal ultimately emerging victorious. With this hard-fought victory, India secured a spot in the quarterfinals, where they are set to face South Korea on Sunday at 4 PM.
Also Read: Asian Games 2023: Learnt from last campaign, says Indian hockey skipper after 16-0 win over Uzbekistan - WATCH
Last Updated Sep 24, 2023, 2:20 PM IST