Asian Games 2023: India men's hockey team clinches gold; seals 2024 Olympics berth - WATCH winning moment
In a thrilling showdown at the Asian Games 2023, the Indian Men's Hockey team clinched the coveted gold medal by defeating defending champions Japan with a resounding score of 5-1 in the final. The Indian squad showcased their exceptional skills and teamwork, dominating the match from the very beginning.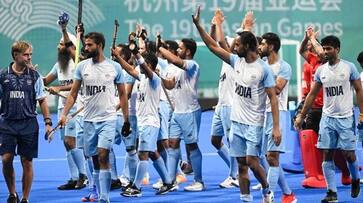 In a historic moment for Indian hockey, the men's team clinched a gold medal at the Asian Games 2023 in Hangzhou, China, on Friday after defeating defending champions Japan 5-1 in the final. With this win, the Indian men's hockey team has secured a berth in the 2024 Paris Olympics.
The Indian men's hockey team secured a resounding 5-1 victory over the defending champions, Japan, reclaiming the Asian Games gold medal after a nine-year gap and earning their ticket to the upcoming Paris Olympics. This victory marks India's fourth Asian Games gold, with their previous triumph dating back to the 2014 Incheon edition. The nation's other gold medals were achieved in 1966 and 1998, both in Bangkok.
Harmanpreet Singh, with goals in the 32nd and 59th minutes from penalty corners, played a pivotal role, while Amit Rohidas added to the tally in the 36th minute from a set-piece. Manpreet Singh and Abhishek also contributed with field goals in the 25th and 48th minutes, respectively, sealing a historic win for India. Despite Japan's Seren Tanaka converting a penalty corner in the 51st minute, India's dominance remained unshaken throughout the match.
Also Read: Asian Games 2023: Afghanistan outclasses Pakistan; to face India in men's cricket final
Last Updated Oct 6, 2023, 5:58 PM IST