Should Pochettino replace Potter as Chelsea manager? Blues' fans give ultimate verdict
Former Tottenham Hotspur and Paris Saint-Germain (PSG) boss Mauricio Pochettino would reportedly be interested in becoming Chelsea manager, should the Blues opt to sack Graham Potter following a poor run of results.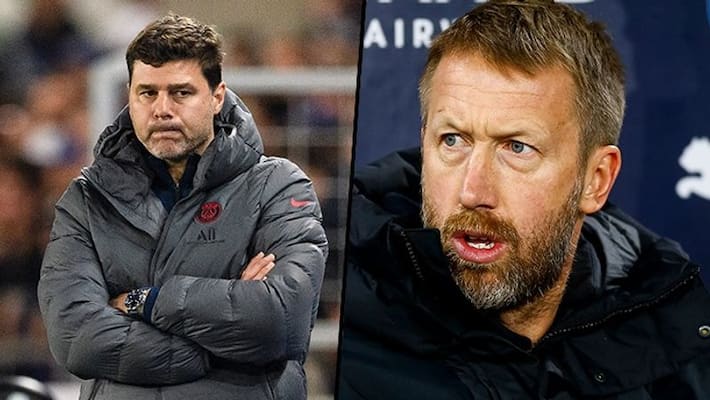 Chelsea manager Graham Potter has been under-fire to perform, and the recent FA Cup, 4-0 defeat at the hands of Manchester City, has added to the club's and its fans' frustrations. If the Blues decide to fire the Englishman due to a poor run of performances, then former Tottenham Hotspur and Paris Saint-Germain (PSG) manager Mauricio Pochettino is rumoured to be interested in the job.
Also read: 'Sack Potter, Bring Tuchel back': Angry Chelsea fans lambasts manager after FA Cup thrashing by Man City
A record of six losses in their last nine games across all competitions has put Potter under increasing pressure at Stamford Bridge. Following losses to Manchester City, Chelsea now sits in 10th place in the Premier League and has been eliminated from both domestic cup competitions. 
If Chelsea decides to fire Potter, Pochettino would be open to taking over as manager, the Sun reports.
The club's owners are reportedly willing to give Potter more time to oversee a turnaround in results, but a terrible performance against Fulham could make them rethink their decision.
Since departing PSG at the end of the previous campaign after guiding the French powerhouse to the Ligue 1 championship, Pochettino has been without a job.
The Argentine's experience with Tottenham, where he guided the North London team to the Champions League final and back-to-back title campaigns, continues to be his most well-known accomplishment in England.
Potter is under pressure despite receiving a five-year deal in September when he was chosen to succeed Thomas Tuchel.
The Todd Boehly/Clearlake Capital partnership chose Potter to succeed Thomas Tuchel because they believed the former Brighton manager to be the manager most aligned with their short- and long-term goals.
Also read: 'Lion in Chelsea logo leaves club': Memes carpet bomb Blues after Man City hammer Potter's men out of FA Cup
The 47-year-old has only been in command for four months, during which there was an unusual hiatus for the World Cup in the middle of the season.
Following Sunday's 4-0 FA Cup loss to Manchester City at the Etihad Stadium, pressure has increased. There are reportedly questions about some of his stars' readiness to follow his orders.
Potter has regular communication with Chelsea's owners, who are said to have reiterated that the project under the new leadership is a long-term one and that they recognise it will take time to rebuild the club.
The Chelsea management feels sympathetic to Potter's injury crisis, which has left 10 senior players out of the team's defeat to Man City.
Meanwhile, rumours of Pochettino's interest in managing Chelsea if Potter were to be sacked have sparked a massive stir among fans of the west London club.
"The only option Chelsea will have is to go back for Tuchel if they sack Potter. Not anymore, thee average Coach in Pochettino. Someone tell him to forget. If it's true, we want Potter to take Chelsea to the National league like that," said one fan on Twitter.
Another supporter added, "God please no. Taking Luis Enrique 100 times over this guy."
A third fan remarked, "I'm more against this than I was, Rafa and that's saying something. Fuck right off," while a fourth simply said, "Wouldn't mind."
Also read: 'I had Messi at Barcelona!': Man City's Guardiola explains why Chelsea must give under-fire Potter time
Here's a look at more Chelsea fan reactions to this latest rumour:
Last Updated Jan 11, 2023, 2:56 PM IST