'I had Messi at Barcelona!': Man City's Guardiola explains why Chelsea must give under-fire Potter time
Manchester City boss Pep Guardiola has come to under-fire Chelsea manager Graham Potter's defence, stating the club must give the Englishman time to implement his strategies after their FA Cup exit on Sunday.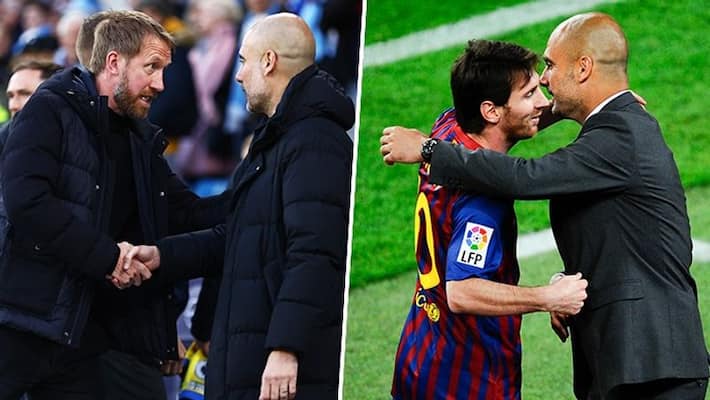 After seeing his team defeat the Blues for the second match in four days, Manchester City manager Pep Guardiola urged Chelsea owner Todd Boehly that he must allow under-pressure manager Graham Potter time to execute his ideas at Stamford Bridge.
Following their 1-0 Premier League victory over Chelsea in the capital on Thursday, City eliminated Potter's team from the FA Cup with a 4-0 win at the Etihad Stadium on Sunday.
Also read: 'Sack Potter, Bring Tuchel back': Angry Chelsea fans lambasts manager after FA Cup thrashing by Man City
Riyad Mahrez opened the scoring for City with a fine free-kick before Julian Alvarez's penalty, and a Phil Foden strike made it 3-0 before half-time. The Algerian finished the job with another spot-kick in the second half.
The travelling supporters booed at the half-time whistle. By the second half, Chelsea supporters chanted the names of former owner Roman Abramovich and Thomas Tuchel, Potter's predecessor, as they reminisced brighter times.
However, Guardiola pushed Chelsea to remain with their guy, praising Potter when he was at Brighton. "I would say to Todd Boehly, give him time," Guardiola said. 
"I know in big clubs, results are important but I'd say give him time. The second half is what he is. What he's done at Brighton is outstanding, but...we need time in the first season," the Man City boss added.
"I had (Lionel) Messi in Barcelona my first season so I didn't need two seasons because Messi was there," Guardiola remarked.
Before Mason Mount's attempt, which was deflected wide in the 54th minute, Chelsea failed to even remotely threaten Stefan Ortega's goal in the first half, which Potter called 'painful'.
Bashir Humphreys made his senior debut in defence because of a continuous injury issue that kept nine players out of this game. However, Potter acknowledged Chelsea supporters needed to see more.
"The results in a small space of time are not positive," Potter said. "You can make excuses and look for reasons or say it isn't good enough. Both of those answers are correct."
"We have to keep improving and stick together because clearly we are suffering as a football club and it's not nice at all. But that's where we are at the moment. We can't do anything apart from do our jobs better and work harder. You understand the supporters' frustration, we respect that. But our job is to do our job and keep working," the Englishman added.
Also read: Inside 'King' Ronaldo's first residence in Saudi Arabia: Cost of Al-Nassr star's lavish suite revealed
Chelsea will face City again when they return to Etihad Stadium in the league in May. "This opponent is probably the worst opponent you can play when things aren't going very well because they can make you look like you're not running or not trying because their positional structure is brilliant," Potter added.
"They use the full width of the pitch, they keep the ball, they make it difficult for you to put any pressure on them. I am working with the players, I don't get any sense of people with a poor attitude. Everyone wants to try and do better. I think there is support in the dressing room," the Chelsea boss added.
"We are just going through a bad moment and sometimes when you have these moments you need somebody or something to blame but we have to stick together and keep working," Potter concluded.
The victory puts Manchester City in the fourth round of the FA Cup, where they will play either Oxford or Arsenal, while Chelsea will play Fulham in the Premier League on Thursday.
Last Updated Jan 9, 2023, 2:52 PM IST