Neymar delights PSG fans with stunning return; scores first goal in six months (Watch)
After a long-awaited return following surgery, Neymar graced the football field once again, much to the delight of PSG fans. The Brazilian superstar showcased his unique talents in a friendly match held in South Korea, scoring a sensational goal just 40 minutes into his comeback.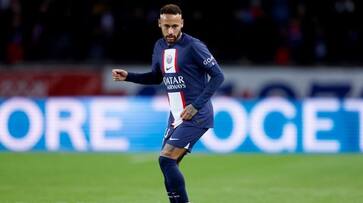 The eagerly awaited moment arrived for PSG fans as Neymar made his long-awaited return to action. After undergoing surgery earlier this year, the Brazilian star has been on the sidelines, leaving supporters anxious to see him back on the field. Finally, in Thursday's friendly match in South Korea, Neymar stepped back into the spotlight.
His comeback was nothing short of spectacular, as Neymar wasted no time in reminding everyone of his extraordinary talents. In the 40th minute of the match, the Brazilian maestro showcased his brilliance with a goal that left fans in awe. In true Neymar fashion, he weaved his way past four challenging defenders in the area, displaying his trademark dribbling skills. With some fancy footwork, he created a yard of space, and then with precision, he slotted the ball home at the near post.
Also Read: 5 goals, 3 games: Lionel Messi's brace fires Inter Miami to League Cup's round of 16 - WATCH
The goal not only marked a triumphant return for Neymar but also served as his first strike since February 2023. The six-month hiatus only seemed to have sharpened his skills and reignited his hunger for the game.
For PSG, having their star player back on the pitch is a huge boost, as they look to make a strong statement in the upcoming season. Neymar's presence adds a new dimension to the team's attack, and his ability to create moments of magic makes him a potent threat for any opposition defence.
As the new season approaches, PSG fans can now look forward to witnessing more of Neymar's extraordinary performances. With his flair, creativity, and goal-scoring prowess, Neymar is set to lead PSG's charge as they aim for glory on both domestic and European fronts. The Brazilian's return has brought a wave of excitement among supporters, and they are eagerly anticipating the magic he will undoubtedly bring to the pitch.
Also Read: Man United star Marcus Rashford sets ambitious goal target ahead of upcoming season
Last Updated Aug 3, 2023, 6:48 PM IST