Mbappe vilified for failing to convert Messi assist in PSG's 2nd defeat post World Cup break
PSG star Kylian Mbappe has been heavily criticised for failing to convert a Lionel Messi assist during the team's 1-0 loss to Rennes, with some angry fans of the Argentinian legend stating that the French icon deliberately missed the target after what transpired at the World Cup 2022 final.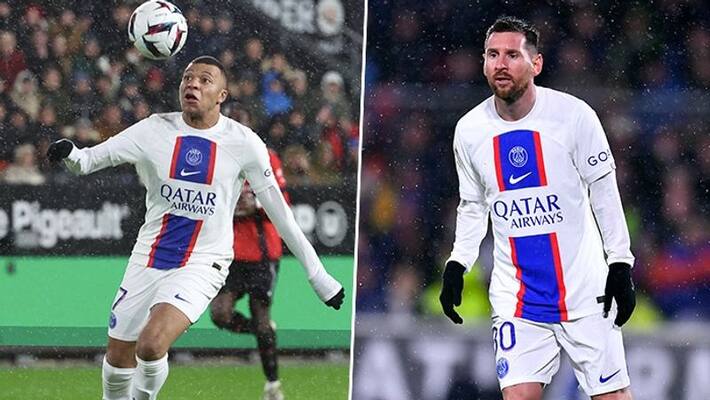 In his first game since France's defeat to Argentina at the Qatar World Cup 2022 final, Paris Saint-Germain (PSG) superstar Kylian Mbappe missed a shocker off Lionel Messi's assist during the club's 1-0 loss to Rennes in the Ligue 1 on Sunday, drawing massive ire from fans of the 35-year-old legend.
Also read: 'Good vibes only': All is well between PSG's Mbappe and Messi after epic World Cup 2022; here's proof
Mbappe had a fantastic opportunity to score the equaliser for the Parisians five minutes after the home team had secured the first goal. When Messi went deep to recover the ball and laid on a threaded pass to the Frenchman, it appeared that PSG had the game in hand. The 24-year-old sensation collected the pass, ran into the penalty area, and suddenly shot from 16 yards over the crossbar.
Rennes' skipper, right-back Hamari Traore, scored the game's sole goal on the hour mark, handing PSG their second defeat since the Qatar World Cup 2022 break. "We need to find our game back. We knew this would be a difficult game, and it was. We had the ball, but we failed to threaten them. Rennes defended with too much ease," said PSG boss Christophe Galtier following the shock defeat.
PSG has struggled to perform convincingly since the World Cup finished as its star players attempt to rediscover their mojo. Messi was unable to have any impact on the game, while Neymar was equally ineffective. PSG's standout players have been Gianluigi Donnarumma and calm 16-year-old midfielder Warren Zaïre-Emery.
PSG boss: We need a wakeup call
"I'm not worried, but we need a wake-up call. The World Cup is over. We've been scattered for eight weeks, so we have to retrieve some cohesiveness and pace," PSG boss added.
Galtier must now return to winning ways that defined PSG's start of the season with the prolific trio of Messi, Neymar and Mbappe coming nicely together. Fast approaching is the pivotal Champions League round of 16 clashes against Bayern Munich, and more concerningly, Lens and Marseille are currently just a hair's breadth behind Ligue 1's leaders. 
"This is a tight league, but I'm not used to watch the standings. I'm focusing on performances, and I have work to do," the PSG boss concluded.
Also read: Ronaldo vs Messi in Saudi Arabia: Date, time, venue, tickets, where to watch in India and more
Meanwhile, Mbappe continues to face the wrath of online trolls and haters, who have slammed the French star for missing Messi's pass deliberately. "He is trying his all not to give Messi that Ballon d'Or," wrote one annoyed fan of the Argentinian legend, while another added, "Mbappe, God will definitely punish you."
A third Messi fan noted, "I am convinced he is on a mission against Messi. If that's against Argentina, he scores it easily," while a fourth added, "I'm convinced that he missed it on purpose."
Here's a look at some of the other reactions on the micro-blogging site:
Last Updated Jan 16, 2023, 5:32 PM IST