Ronaldo vs Messi in Saudi Arabia: Date, time, venue, tickets, where to watch in India and more
Lionel Messi's Paris Saint-Germain (PSG) is set to play a combined XI of Al-Nassr and Al-Hilal stars on January 19, and all eyes will be on whether Cristiano Ronaldo will make his debut in Saudi Arabia in the Riyadh Season Cup friendly clash.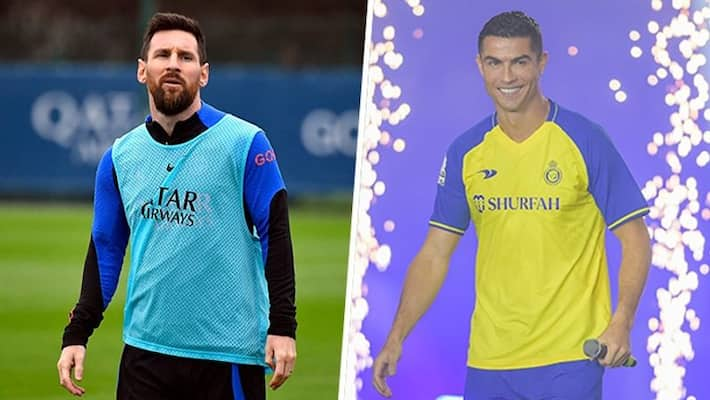 Football lovers worldwide are gearing up to experience a possible Cristiano Ronaldo vs Lionel Messi clash on Saudi Arabian soil. Both these titans of the sport have not faced each other since they locked horns in the 2020-21 Champions League clash between Juventus and Barcelona at Camp Nou. However, since the Portuguese talisman's move to Al-Nassr last month, fans have got one last opportunity to see the two giants of the game face each other.
Also read: Ronaldo vs Messi on Saudi Arabian soil: Here's what happened when the legends clashed last time
The game will be a friendly clash as part of Paris Saint-Germain's tour to the Middle East, where the French giants will face a combined XI of Al-Nassr and Al-Hilal stars. Ronaldo, who is yet to debut for his new team owing to a pending 2-match FA ban for the infamous Everton incident last season, will participate in the exhibition match. Fans will see the 37-year-old striker in action for the first time on Saudi Arabian soil as the five-time Ballon d'Or winner looks to stamp his authority in Asia.
"It (his debut) won't be with the Al Nassr jersey. It will be a mix between Al Hilal and Al Nassr," Rudi Garcia was quoted as saying by L'Equipe a few days ago.
Also read: Will it be Ronaldo vs Messi in Saudi Arabia? Al-Nassr coach Rudi Garcia gives ultimate response
Here's all you need to know about the Saudi All-Stars XI vs PSG friendly match in Riyadh:
When, what time, and where will the Ronaldo vs Messi friendly clash take place?
The game will be played on January 19 at 8:30 PM IST and will be played at the King Fahd Stadium.
Are tickets for Ronaldo vs Messi friendly clash still available?
An absurd number of tickets were requested because the exhibition game can likely put Ronaldo against Messi, Neymar, and Kylian Mbappe.
According to a report by ESPN, over 2 million individuals sought to get into the 68,000-seat King Fahd Stadium in Riyadh. The report added that tickets sold out "within minutes" after going on sale earlier in the week.
Unfortunately, no more tickets as available for sale.
Where to watch the live streaming of the Ronaldo vs Messi friendly clash in India?
The exhibition game between Saudi All-Star XI and Paris Saint Germain will be available for live streaming on PSG TV and PSG social media.
As far as the Saudi Pro League is concerned, Ronaldo fans can watch Al-Nassr's new hero in action on Shahid-MBC. Subscription charges are: 13.99 USD per month (1141.13 INR) or 99.99 USD annually (8286.26 INR).
It is unknown whether Shahid-MBC will live stream the January 19's Saudi All-Stars XI vs PSG match.
Also read: Ronaldo vs Messi at Saudi Pro League? Al-Hilal 'ready' to offer PSG star 300 million-dollar deal
When will Ronaldo make his Al-Nassr debut?
The Portuguese talisman is expected to play for his new team against Al-Ettifaq on January 22 at 11 PM IST at Mrsool Park.
Last Updated Jan 13, 2023, 1:56 PM IST