'Good vibes only': All is well between PSG's Mbappe and Messi after epic World Cup 2022; here's proof
Kylian Mbappe returned to Paris Saint-Germain (PSG) training on Thursday after an extended post-World Cup 2022 break, and the French star's latest Instagram post indicates all is well with Argentinian superstar Lionel Messi.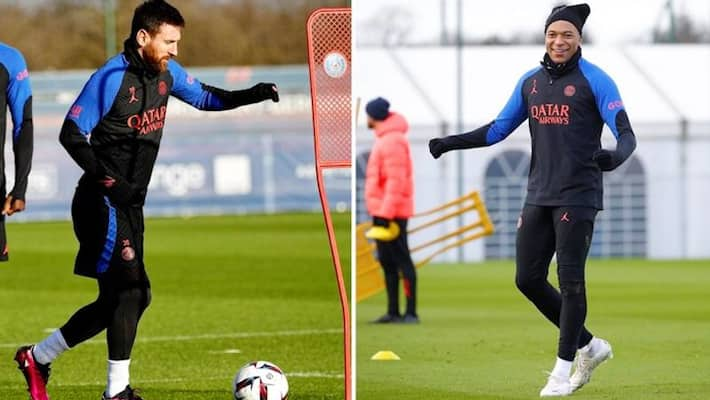 French sensation Kylian Mbappe returned to Paris Saint-Germain (PSG) training on Thursday, where he finally got to meet Qatar World Cup 2022 Golden Ball winner Lionel Messi, three weeks after Argentina defeated Les Bleus on penalties (4-2) to lift the coveted trophy in Doha.
A painful moment occurred on December 18 at Lusail Stadium when Messi and company bagged Argentina's third World Cup glory despite Mbappe's impressive hat-trick that tied the game 3-3 after extra time. However, in some consolation for the PSG star, he bagged the Golden Boot for his eight goals throughout the tournament.
Also read: Ronaldo vs Messi in Saudi Arabia: Date, time, venue, tickets, where to watch in India and more
Following France's loss in Qatar, Mbappe was heavily mocked by Argentinian goalkeeper Emiliano Martinez. However, the 24-year-old sensation cancelled all the noise around their campaign and went on an extended break with close friend and PSG teammate Achraf Hakimi.
On Thursday, Mbappe returned to PSG training, and PSG supporters were curious about his first encounter with Messi after World Cup 2022. According to Le Parisian, PSG attempted to navigate a delicate situation upon the 24-year-old's return to the squad. The report added the two PSG stars have an understanding and are focused on the second half of the 2022-23 campaign, including aiming to clinch the Parisian club's maiden Champions League title.
On Saturday, PSG posted a video of the stars training for their next clash, and visuals shared by the Ligue 1 champions show Mbappe and Messi enjoying their time at Camp des Loges. 
Here a glimpse of how the two World Cup 2022 stars had a peaceful training session, proving that all is well between them:
Mbappe's latest Instagram post also reiterated that all is well between the French star and his Argentinian teammate. "Good vibes only," wrote the PSG sensation, along with photographs of himself enjoying his time during his training session with the rest of the squad.
Mbappe fans applauded the French superstar's spirit, with some stating that he is a greater force than Messi and Neymar combined. "He is so talented. Ballon d'Or is waiting for him," noted one fan, while another added, "Remember, respect others. The sky will be the beginning. Having hatred in your heart and posting good vibes only will not get you anywhere. Treat others now with respect and that's how you will be treated when you're older."
PSG's Instagram, too, showcased pictures of Mbappe and Messi focusing on training for their upcoming games. The French giants will face Rennes next on January 16, even as the team gears up for their Champions League challenge against Bayern Munich on February 16.
Also read: Should Neymar move to Premier League? Brazilian great Rivaldo suggests which team PSG star must consider
Last Updated Jan 14, 2023, 6:07 PM IST