Mbappe meets Messi in 1st PSG training since Argentina's World Cup win; here's what transpired
Kylian Mbappe and Achraf Hakimi returned to Paris Saint-Germain (PSG) training on Thursday after an extended post-World Cup 2022 break, and here's what reportedly transpired when the French star came face-to-face with Argentina's Lionel Messi for the first time since the epic final at Qatar.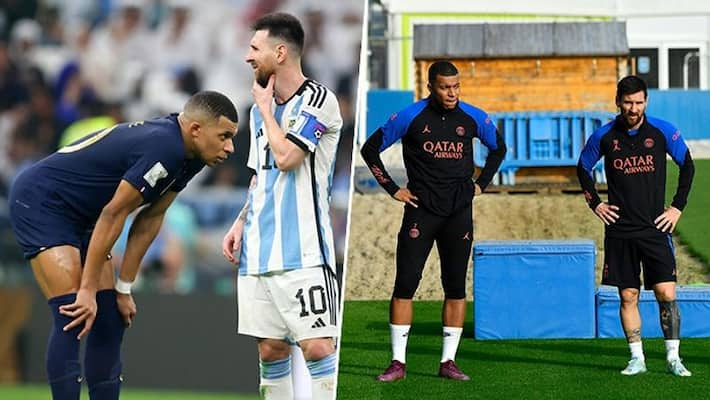 Three weeks after Argentina beat France on penalties (4-2) in a thrilling final to lift the Qatar World Cup 2022, Le Bleus star Kylian Mbappe returned to Paris Saint-Germain (PSG) training on Thursday, where he met with Golden Ball winner Lionel Messi for the first time since the epic encounter in Doha.
Mbappe, who clinched the Golden Boot trophy for eight goals in the showpiece event, had a heartbreaking moment on December 18 at Lusail Stadium when Messi and Co. lifted the coveted trophy, despite scoring a sensational hat-trick to level the scores 3-3 after extra time.
Also read: Ronaldo vs Messi in Saudi Arabia: Date, time, venue, tickets, where to watch in India and more
Following France's loss at the World Cup 2022, Mbappe was heavily mocked by Argentinian goalkeeper Emiliano Martinez. However, the 24-year-old sensation cancelled all the noise around their campaign and went on an extended break with close friend and PSG teammate Achraf Hakimi.
On Thursday, PSG posted a video of Mbappe and Hakimi jogging onto the training ground at Camp des Loges after manager Christophe Galtier granted them an extended break. The two PSG stars returned to the French capital after holidaying for one week in New York.
Mbappe's return to PSG training camp also marked the first time the France star met with Argentinian legend Lionel Messi since the latter's victory at the FIFA World Cup 2022. According to Le Parisien, PSG attempted to navigate a delicate situation upon the 23-year-old's return to the squad. However, the two players are said to have an understanding and are focused on the second half of the 2022-23 campaign, including aiming to clinch the Parisian club's maiden Champions League title.
Also read: Ronaldo vs Messi at Saudi Pro League? Al-Hilal 'ready' to offer PSG star 300 million-dollar deal
"In the absence of being linked by a deep friendship, the two stars have a deep respect for each other and have displayed the same satisfaction to find each other before Messi recovers indoors and Mbappe takes over the management of the pitches," Le Parisien wrote on Thursday about the first training session with Mbappe and Messi.
Messi scored a goal upon his return to PSG after taking time off to celebrate his maiden World Cup glory. The Argentinian legend scored in the 72nd minute of Wednesday's Ligue 1 clash against Angers, which helped PSG secure a 2-0 win. The team will next play Rennes on January 16 (1.15 AM IST), and fans will likely see Mbappe back in action. 
Last Updated Jan 13, 2023, 2:56 PM IST