EPL 2022-23: 'Would like to help Harry Kane win something with Tottenham Hotspur' - Antonio Conte
EPL 2022-23: Tottenham Hotspur managed to edge past Fulham 1-0 on Monday night. Meanwhile, Spurs boss Antonio Conte has expressed his wish to help Harry Kane win something with the club.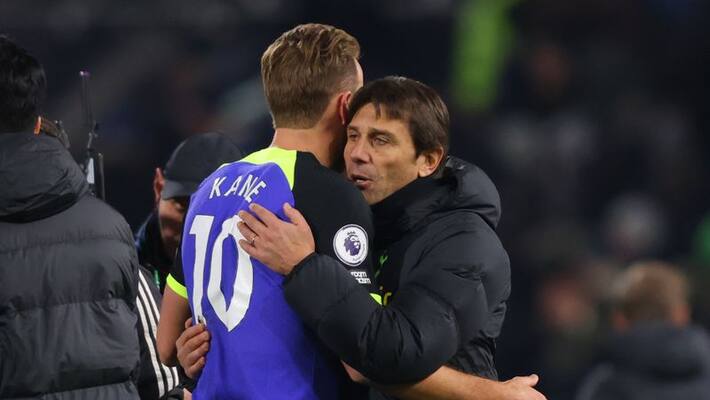 English giants Tottenham Hotspur might be without a title for a long time. However, it is still one of the most dominant sides in English football that keeps contending for titles at some point and in Europe. On Monday, it pipped fellow Londoner Fulham 1-0, thanks to the lone winning strike from Harry Kane at the stroke of half-time following a swift assist from Heung-Min Son. While the Spurs are currently placed fifth on the table and far from league leader Arsenal, club head coach Antonio Conte is eager to win something for the club, especially for Kane, who he feels loves the club.
"For sure, I would like to help him [Kane] and me, also his team-mates, to try to do something important, to win something with Tottenham because he loves Tottenham. Tottenham is in his heart, and it should be good if together we could win something because it is important to have this record. Still, I think it could be more important if you win a trophy," Conte told the media on Monday after the triumph, reports FotMob.
ALSO READ: EPL 2022-23: 'Don't have an opinion; can be a perception' - Arteta on Arsenal being title favourites
"Today [Monday], he [Kane] was amazing. He scored a great goal, the execution, to control the ball, then kick it that way. Only a world-class striker can score this goal. About the spirit that I spoke before, I want to underline Harry played with a fever, and he was not so good [considering his condition], but he wanted to play because he understood the moment," added Conte.
Meanwhile, Kane asserted that he wants to repay Conte's belief in him, saying, "He's been through a difficult time outside of football with his personal life. Being part of a team isn't just about the players. It's the manager, the staff and being there for each other. We want to win every game for him."
ALSO READ: EPL 2022-23: 'ALL GOALS WE CONCEDED ARE MISTAKES' - ETH SLAMS UNITED DEFENCE IN ARSENAL LOSS
"He [Conte] puts so much passion into every training session. And we want to repay him with victories. We had a good meeting with the manager this week to talk and get back. We are going to keep fighting, like the manager. He is a passionate manager, and we have to keep working hard for him," concluded Kane while talking to Sky Sports.
Last Updated Jan 24, 2023, 2:14 PM IST