Barcelona President Joan Laporta charged with bribery in Negreira case: Reports
Barcelona's current president, Joan Laporta, faces serious legal implications as he is officially charged in the ongoing 'Negreira' case for bribery.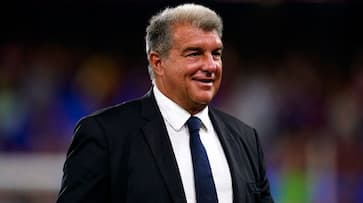 The ongoing investigation into the 'Negreira' case has taken a significant turn, as reports from Spain confirm that Barcelona president Joan Laporta has been formally charged with bribery by the presiding judge. This accusation is tied to Laporta's initial tenure as president, spanning from 2003 to 2010. Laporta now finds himself implicated in the 'Negreira' case, alongside former Barcelona presidents Sandro Rosell and Josep Maria Bartomeu, ex-directors Oscar Grau and Albert Soler, and the former vice president of the Technical Committee of Referees, José María Enríquez Negreira, along with his son Javier.
The case centers around alleged bribes offered to referees. Last week, Judge Joaquín Aguirre indicated that there was substantial evidence suggesting Laporta engaged in similar acts to subsequent presidents. This evidence pertains to FC Barcelona making significant financial payments to José María Enríquez Negreira for his role as one of the vice presidents of the Technical Committee of Referees within the Royal Spanish Football Federation.
With Laporta now officially facing charges, the investigation is likely to extend to alleged briberies involving other Barcelona directors dating back to 2008, beyond the previously considered period of 2001 to 2007 related to payments made to Enríquez Negreira.
Also Read: Manchester United sale saga: Jim Ratcliffe's potential 25 percent stake leaves fans in limbo over club future
Also Read: Harry Kane's brace inspires England's thrilling comeback win against Italy to qualify for Euro 2024
Last Updated Oct 18, 2023, 4:38 PM IST