Manchester United sale saga: Jim Ratcliffe's potential 25 percent stake leaves fans in limbo over club future
The article discusses British billionaire Jim Ratcliffe's potential 25% stake acquisition in Manchester United and the persistent control of the Glazer family, as fans express disappointment and concerns about the club's fortunes and stadium upgrades.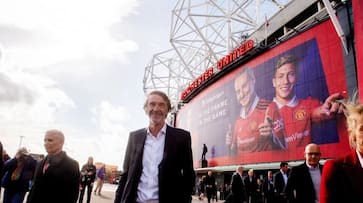 Almost a year following Manchester United's decision to welcome external investments, British billionaire Jim Ratcliffe is on the verge of purchasing a 25 percent stake in the English Premier League club. The proposed deal, reportedly valued at 1.3 billion pounds ($1.6 billion), is expected to gain approval at a Manchester United board meeting scheduled for Thursday. However, the news that the Glazer family will retain control of the club has left most fans bitterly disappointed, as they had hoped to see the unpopular American owners depart.
The Manchester United Supporters Trust (MUST) expressed their skepticism, stating, "It would be wildly optimistic to think the Glazers are acting in the interests of supporters or are making ownership decisions which don't center on their own priorities." United's fortunes, both on and off the field, have fluctuated since the Glazers' leveraged takeover of Old Trafford in 2005 for 790 million pounds.
During the early years of the Glazer era, the brilliance of former manager Alex Ferguson kept the Red Devils at the pinnacle of English and European football. However, United has not clinched the Premier League title since Ferguson's retirement in 2013 and hasn't won the Champions League since 2008. A dismal start to the current season has left Erik ten Hag's side in 10th place in the Premier League and at risk of an early Champions League exit after losing their first two group games.
The proposed deal with Jim Ratcliffe, the founder of petrochemicals giant INEOS, suggests that he will seek control of the club's football operations in exchange for his substantial investment. Nevertheless, concerns arise regarding the practical impact a minority owner can have on the core operation of a business. Gary Neville, a former United captain turned pundit and businessman, questioned on social media, "How does a minority shareholder stop cultural decline across a whole organization if the people who have overseen this decline still have a majority shareholding?"
Additionally, it remains uncertain where the proceeds from Ratcliffe's investment will be allocated. As of March, the club's debt had risen to 970 million pounds, and there's also a pressing need for a long-anticipated upgrade of the club's stadium. While Old Trafford remains the UK's largest club stadium with a capacity of over 74,000, it has aged during the Glazers' ownership, while United's rivals have modernized their stadiums. The stadium lacks a big screen for showing fans VAR incidents, and social media videos have revealed supporters getting soaked due to a leaking roof during matches.
Gary Neville has called for the club's training ground to be upgraded as well. "Old Trafford requires significant investment on its surrounding land," said Neville. "Does this deal impact this requirement positively or does it leave it as a concrete wasteland?"
In November 2022, when Manchester United initially introduced a procedure to "explore strategic options for the club," one of the possibilities on the table was "stadium and infrastructure redevelopment" with a substantial capital infusion. Gary Neville has also emphasized the necessity of enhancing the club's training facilities.
However, with fans already weary after 11 months of a protracted process, there's a fear that the Glazers might simply profit from selling some of their shares while retaining control. The Manchester United Supporters Trust emphasized that any outcome must involve new investment in the club, not solely catering to the interests of shareholders, be they existing or new.
"If the reports are true regarding INEOS obtaining a 25 percent stake in our club there are a number of questions around the transaction which need clarity before supporters can make any judgement on its merits," said MUST.
"The outcome must include new investment into the club. It cannot be solely about the interests of shareholders, whether existing or new," it added.
Last Updated Oct 18, 2023, 1:39 PM IST