Shubho Mahalaya 2023: Visiting river banks to making traditional foods, how to celebrate THIS day
Shubho Mahalaya is celebrated for its cultural and religious significance in the state of West Bengal and among Bengali communities around the world. This year, Mahalaya falls on October 14, 2023.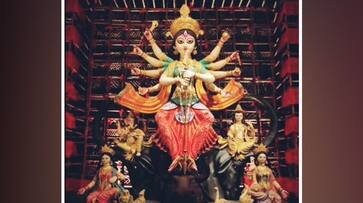 Shubho Mahalaya marks the beginning of the festive season in West Bengal and is a time when people prepare for Durga Puja, one of the most significant festivals in the region. It marks the beginning of the festive season and brings several aspects and significance to the lives of those who observe it such as Spiritual renewal, cultural and traditional richness, and more. As it's a time of cultural and spiritual significance, here are various ideas to celebrate this occasion. 
Decorate your home
Embrace the festive spirit by decorating your home with colorful rangolis, flowers, and traditional alpana patterns. You can also hang torans or decorative strings at your entrance to welcome the goddess.
Traditional attire
Wear traditional Bengali attire, such as a saree for women or a kurta and dhoti for men, to immerse yourself in the cultural ambiance.
Listen to Mahalaya recitations
Tune in to the Mahalaya recitations by Birendra Krishna Bhadra, which are broadcast on the radio. It's a tradition for many to listen to these recitations early in the morning.
Visit riverbanks
Many people visit the Ganges or other riverbanks to offer tarpan (prayers for ancestors) during Mahalaya. It's a serene and spiritually uplifting experience.
Prepare traditional food
Prepare traditional Bengali dishes like luchi, aloor dum, chingri malai curry, and sweets like sandesh and roshogolla to enjoy with your family.
Offer Anjali
Visit a Durga Puja pandal and offer anjali (prayers) to seek the goddess's blessings. Admire the beautifully crafted idols and immerse yourself in the festive atmosphere.
Create an artisanal corner
Set up an artisanal corner in your home, where you can engage in activities like making clay idols or crafting traditional Bengali artwork.
Listen to devotional music
Listen to devotional songs and music that celebrate the goddess and the festive season.
Watch Mahalaya programs
Many television channels and cultural organizations host Mahalaya programs that showcase dance, music, and drama performances. Watch these to appreciate the artistic and cultural significance.
Engage in charity
Durga Puja is also a time of giving. Consider donating to charities or participating in community service to share the festive joy with those in need.
Connect with loved ones
Use this time to connect with friends and family, whether through video calls or by sharing festive greetings.
Read or recite from scriptures
If you are spiritually inclined, read or recite from religious texts that highlight the significance of the festival.
Shubho Mahalaya is a time for reflection, celebration, and preparation for Durga Puja. It's an opportunity to immerse yourself in the rich culture and traditions of Bengal and to connect with your roots and community.
Last Updated Oct 14, 2023, 7:30 AM IST