Krishna Janmashtami 2023: Do's and Don'ts of fasting to follow
Krishna Janmashtami 2023: Discover essential dos and don'ts for observing a spiritually fulfilling fast during Janmashtami 2023, celebrating Lord Krishna's birth on September 6 and 7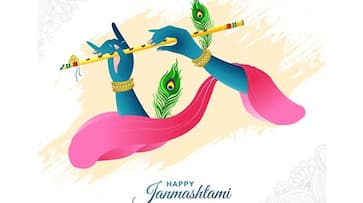 Janmashtami 2023, the Hindu festival celebrating the birth of Lord Krishna, falls on September 6 and 7 this year. Fasting is a central aspect of this observance, with devotees undertaking a 24-hour fast as a mark of their devotion to Lord Krishna. To ensure a spiritually enriching experience, it's essential to follow these guidelines of dos and don'ts while observing the fast.
Dos:
Sankalpa (Pledge): Embark on your fast by making a sincere sankalpa, a solemn pledge, affirming your unwavering devotion to Lord Krishna. Chanting His name throughout the day helps maintain a spiritual connection.

Pre-fast Meal: Kickstart your day with a pre-fast meal to prepare your digestive system and provide the necessary energy for the day ahead. Fresh fruits or juices are excellent choices to prepare your body for fasting.

Generosity: Embrace the spirit of giving by offering food and clothing to those less fortunate. This act of kindness is believed to attract happiness and prosperity, mirroring Lord Krishna's benevolence.

Satvik Bhojan: On Janmashtami, stick to a Satvik (pure) diet. Avoid tamasic ingredients such as garlic, onion, meat, and alcohol, as they are not in harmony with the sanctity of this holy occasion.

Milk and Curd: Milk and curd hold special significance in Janmashtami rituals. You can relish fresh fruit shakes, lassi, buttermilk, or rose milk while fasting to stay nourished.

Homemade Prasad: Prepare prasad (offerings) at home for Krishna Janmashtami. Devotees often create delicacies like Peda, Gheeya ki Lauch, Nariyal Gajak, and other milk-based treats to present to Lord Krishna.
ALSO READ: Happy Teachers' Day 2023: Here are 7 gift ideas for your dear Guru
Don'ts:
Non-Vegetarian Food: Abstain from all forms of non-vegetarian food during your fast. Janmashtami fasting strictly prohibits the consumption of meat and other non-vegetarian items.

Tea and Coffee: Avoid tea or coffee during your fast, as these beverages can increase acidity and discomfort. Instead, opt for coconut water or fresh juices for hydration.

Harming Animals: In alignment with Lord Krishna's compassion for all creatures, especially cows, avoid causing harm to animals. Providing food and water to animals on Janmashtami fosters respect for all living beings.

Fried and Oily Food: Minimize your consumption of fried and oily foods, as they can be unhealthy and disrupt your fast. Opt for fruits, milk, and nutritious liquids to sustain yourself.

Clean Utensils: Ensure that all utensils used for serving or eating are clean and have not been previously used for non-vegetarian cooking.

Positive Atmosphere: Create a serene and joyful atmosphere at home on the day of the Puja. Extend special consideration to the elderly and avoid any form of rude or aggressive behavior.
Fasting during Janmashtami 2023 is a profound expression of devotion and self-discipline. By adhering to these dos and don'ts, you can enhance your spiritual experience and pay homage to Lord Krishna in a way that respects the sacred traditions of this joyous festival. May this Janmashtami bestow inner peace, blessings, and divine grace upon you and your loved ones.
ALSO READ: Teacher's Day 2023: Day, history, significance
Last Updated Sep 6, 2023, 9:54 AM IST