Teacher's Day 2023: Day, history, significance
Teachers' Day (Shikshak Diwas) on September 5, 2023, in India, celebrates educators' vital role, honoring Dr. Sarvepalli Radhakrishnan's legacy with cultural activities and gratitude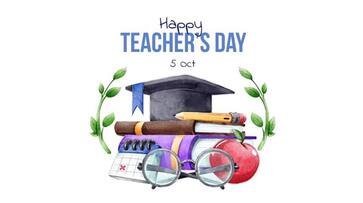 Teachers' Day, also known as Shikshak Diwas, is a significant celebration in India that honors the contribution of educators in shaping the future of our nation. This special day is observed on September 5th every year, coinciding with the birth anniversary of the eminent philosopher and statesman, Dr. Sarvepalli Radhakrishnan. Let's explore the history, significance, and customary celebrations associated with Teachers' Day.
When is Teachers' Day 2023? Teachers' Day 2023 falls on Tuesday, September 5th.
Teachers' Day History and Significance: Teachers' Day is celebrated on the birth anniversary of Dr. Sarvepalli Radhakrishnan, who was born on September 5, 1888, in Tiruttani, Tamil Nadu. Dr. Radhakrishnan held several esteemed positions in his lifetime, including being India's second President and the first Vice President. His intellectual prowess, contributions to philosophy, and dedication to education earned him the prestigious Bharat Ratna award.
The origins of Teachers' Day in India can be traced back to 1962 when Dr. Sarvepalli Radhakrishnan was serving as the President of India. On this occasion, some of his students approached him with the idea of celebrating his birthday. However, in a humble and thoughtful gesture, Dr. Radhakrishnan suggested that instead of celebrating his birthday, the day should be dedicated to honoring and appreciating the hard work and dedication of teachers. Since then, September 5th has been designated as Teachers' Day in India.
Teachers' Day holds immense significance as it acknowledges the vital role that educators play in shaping the future of the country. Teachers are often regarded as the pillars of society, as they impart knowledge, values, and skills to the younger generation, preparing them for a brighter future. This day provides an excellent opportunity for students and society at large to express gratitude to their teachers and recognize the profound impact they have on individuals and the community.
Teachers' Day 2023 Celebrations: Teachers' Day is celebrated with great enthusiasm and heartfelt gestures across schools and educational institutions in India. The customary celebrations include:
Cultural Activities: Schools organize various cultural programs, including dances, songs, skits, and speeches, to showcase students' talents and creativity. These activities serve as a means of entertainment and appreciation for teachers.

Expressing Gratitude: Students express their gratitude and affection towards their teachers by presenting them with gifts, chocolates, flowers, handwritten cards, and other tokens of appreciation. These gestures hold sentimental value and convey the students' respect and admiration.

Role Reversal: In a fun and educational twist, senior students often take on the roles of teachers for a day. They assist with classroom management, teach junior students, and gain a deeper appreciation for the challenges and responsibilities that teachers face.

Teacher Appreciation Programs: Many schools organize special events and award ceremonies to recognize exceptional teachers for their dedication and outstanding contributions to education.

Reflection and Inspiration: Teachers' Day is an occasion for students to reflect on the positive influence their teachers have had on their lives. It serves as a source of inspiration, encouraging students to strive for excellence in their academic pursuits.
Teachers' Day, celebrated on September 5th, is a meaningful tribute to educators who play a pivotal role in nurturing and shaping the future of the nation. It is a day to express gratitude, celebrate the noble profession of teaching, and honor the legacy of Dr. Sarvepalli Radhakrishnan, whose humility and wisdom continue to inspire generations of students and teachers alike.
Last Updated Sep 5, 2023, 7:00 AM IST