Health Bounty: 5 phenomenal benefits of consuming Green Chillies in daily diet
Green chilli is a no-calorie, no-cholesterol ingredient, that is too packed with dietary fibres. Belonging to the Capsicum family, the nutrient power is obvious from green chilli vitamins that include vitamin A, vitamin C, vitamin B6 and minerals such as copper, potassium, and iron.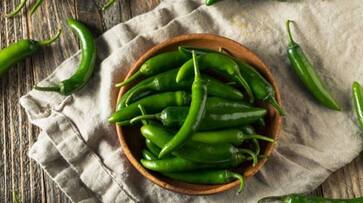 On top of making your foods taste more 'Asian', green chillies bring a lot of goodness to your health. Green chillies are more than just a spice to add heat to your dishes; they also offer several health benefits when consumed in moderation. As per research, vitamin C in green chillies boosts collagen production, delaying the signs of ageing. Collagen also helps your skin appear youthful, supple, and glowing. The added green chillies benefit for the skin is that they contain vitamin E, vital to delay the signs of ageing. Also, green chillies have important antibacterial properties which help prevent acne and fade away blemishes. While green chillies offer these health benefits, it's essential to consume them in moderation.
ALSO READ: Health Bounty: 5 surprising benefits of drinking Jeera Water in morning daily
Here are 5 impressive health benefits of consuming Green Chillies in a daily diet:
1. Rich in Vitamins:
Green chillies are a good source of essential vitamins, particularly vitamin C for immunity and vitamin A for healthy skin, vision and resistance power of the body.
2. Metabolism Booster:
Capsaicin, the compound responsible for the heat in green chillies, can boost your metabolism temporarily. This can help in burning more calories and may aid in weight management.
3. Pain Relief:
Capsaicin in green chillies has natural pain-relieving properties. It is very often used in topical creams for arthritis and muscle pain.
4. Digestive Health:
Green chillies can stimulate the production of digestive juices, which may aid digestion. They can also help to relieve symptoms of indigestion and bloating in some individuals.
5. Antioxidant Properties:
Green chillies contain antioxidants, such as beta-carotene and capsaicin, which can help neutralize harmful free radicals in the body. Antioxidants play a role in reducing the risk of chronic diseases.
ALSO READ: Health Hazards: 5 dangerous side effects of drinking excessive Coconut Water
Last Updated Sep 21, 2023, 7:00 AM IST