Health Bounty: 5 surprising benefits of drinking Jeera Water in morning daily
Drinking jeera water daily in the morning paves the way for a healthy digestive system, which, in turn, keeps the overall body functioning on track. A particular compound called thymol found in cumin seeds stimulates gastric gland secretion. Jeera Water is a powerhouse of the benefits of a weight loss regimen followed by people.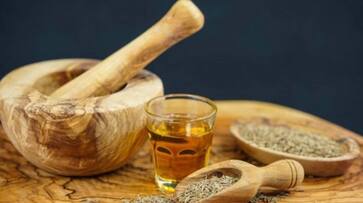 If you want to lead a healthy life and lose weight, we keep trying different hacks and healthy concoctions. Besides promising countless health benefits, they also claim to detoxify the body and help in weight reduction. But one drink has been proven to do so. That drink is cumin or jeera water. To prepare jeera water, soak a handful of cumin seeds in water and let it rest overnight. After soaking jeera seeds for a long time, the seeds swell up and release bioactive compounds into the water. Once you chug down this concoction in the morning daily, you will notice a difference in just 10-14 days.
ALSO READ: Digestive health to weight management: 7 benefits of Bell Peppers
Here are five potential benefits of consuming jeera water daily:
1. Improves Digestion:
Jeera is known for its digestive properties. Drinking jeera water in the morning can help stimulate the production of enzymes essential for digestion.
2. Boosts Metabolism:
Jeera water can aid in boosting your metabolism. This means that it can help your body burn calories more efficiently, potentially assisting with weight management when combined with a balanced diet and regular exercise.
3. Manages Blood Sugar Levels:
Some studies suggest that jeera may help regulate blood sugar levels. It can improve insulin sensitivity, potentially making it beneficial for individuals with diabetes or those at risk of developing the condition.
4. Anti-Inflammatory Properties:
Cumin contains antioxidants and anti-inflammatory compounds that may help reduce inflammation in the body. This can be beneficial for conditions where inflammation plays a role, such as arthritis.
5. Rich in Nutrients:
Jeera is a good source of essential nutrients like iron, magnesium, and vitamin B1. These nutrients are important for various bodily functions, including energy production and maintaining healthy blood.
ALSO READ: Cheesecake to shortcake: 7 desserts that can be made with Strawberry
Last Updated Sep 20, 2023, 9:01 PM IST