College issued memo to students for wearing salwar kameez instead of saree
The fourth-year students were asked to pay ₹5,000 as a warning fine
They chose to wear salwar kameez during a posting in social and preventive medicine outside college campus
A medical college in Kerala has imposed a fine of ₹5000 on the students for wearing salwar kameez. The college authorities issued a notice to the students stating that failure to follow the 'dress code' amounts to 'grievous misadventure.'
The memo was issued to fourth-year medical students of Mount Zion Medical College, Chayalode in Adoor. As many as 19 students got the notice as they wore salwar kameez instead of saree during a posting in social and preventive medicine.
The notice states that the 'students of 2014 regular batch have conducted 'grievous misadventure' by 'diluting the dress code' of the institution on 19.09.2017'. It further states that such acts will be dealt very seriously as it has made a black mark on the institution.
The notice states that the students will have to pay ₹5,000 as a 'warning fine' failing which they will be debarred from attending further classes.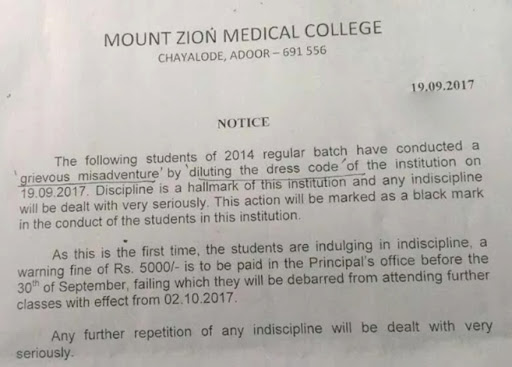 The students say that they opted for salwar kameez as the event was being held outside the campus. Further, it was raining heavily, and it would be easy for them to perform their tasks wearing salwar kameez rather than in a saree.
As the news breakout college authorities withdrew the notice and allowed students to continue their classes without paying the fine.

Last Updated 31, Mar 2018, 7:05 PM IST