ODI World Cup 2023 final: Police permission is mandatory for public screening in Bengaluru
Bengaluru prepares for the India-Australia World Cup final with public screenings, but police permission is mandated for screen installations. The city's bowling club readies a large screen for members, emphasizing safety. The police commissioner stresses the need for official authorization for public screenings, ensuring safety measures during the event.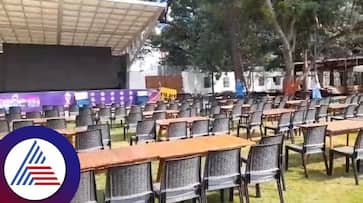 As the excitement builds for the World Cup cricket final showdown between India and Australia, arrangements have been made across Bengaluru for public screenings, especially in clubs eager to host the most anticipated clash. However, amidst the fervour, a crucial detail has been announced for all the public screenings in the city. Police permission is a prerequisite for the installation of screens in public places.
In preparation for tomorrow's final match slated for Sunday, November 19, the city's bowling club has set up a sizable screen capable of accommodating over 1000 viewers. This arrangement has been in place since the commencement of the World Cup cricket final tournament, catering primarily to club members and their families.

BBMP is conducting Animals and Birds survey in Bengaluru; here's why
Yet, the city's police commissioner emphasized the need for official authorization for such public screenings. The commissioner has already communicated this requirement to all police stations in the city, stressing the necessity of obtaining permission for public activities, particularly concerning safety measures for the audience.

ODI World Cup 2023: Australian DyPM Richard Marles to watch India Vs Australia final at Narendra Modi stadium
"Tomorrow's World Cup final between India and Australia will be exciting, and police permission is mandatory for installing screens in public places," stated the city police commissioner, highlighting the importance of ensuring public safety during such events.
A verbal notification has been issued to all police stations by the city police commissioner.
Last Updated Nov 18, 2023, 5:45 PM IST