ODI World Cup 2023: Australian DyPM Richard Marles to watch India Vs Australia final at Narendra Modi stadium
Australian Deputy Prime Minister and Defence Minister Richard Marles is set to attend the ICC World Cup 2023 final match between India and Australia in Ahmedabad on November 19. This precedes his participation in the 2+2 dialogue with his Indian counterpart, Rajnath Singh, scheduled for the following day in New Delhi.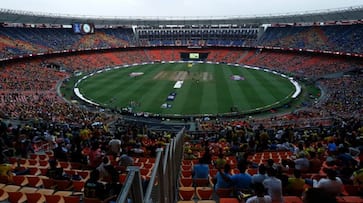 Australian Deputy Prime Minister and Defence Minister Richard Marles will witness the World Cup 2023 final match between India and Australia at Ahmedabad in Gujarat on November 19, a day ahead of his 2+2 dialogue in New Delhi with his Indian counterpart, Rajnath Singh. The final showdown between India and Australia in the ICC World Cup 2023 is scheduled for November 19.
Securing their place in the championship match after a resounding victory over New Zealand by 70 runs, India will face Australia in a highly anticipated cricket clash. The grand finale is slated to unfold at the Narendra Modi Stadium in Ahmedabad, with the IND vs AUS Cricket World Cup 2023 set to kick off at 2 pm (IST). The toss is scheduled for 1.30 pm on the same day.
India's remarkable performance has propelled them to the status of unbeaten finalists, having won an impressive 10 consecutive matches without a single loss. The journey to the final saw India triumph over New Zealand in the first semifinal, securing a convincing 70-run win on November 15 at Mumbai's Wankhede Stadium. The cricket world awaits the culmination of this thrilling tournament as India and Australia vie for the coveted trophy in what promises to be an electrifying World Cup final.
Marles will be in India from November 19 to 20, to co-chair the second India-Australia 2+2 Ministerial Dialogue with his Indian counterpart Rajnath Singh. In the dialogue, India's Foreign Minister S Jaishankar and his Australian counterpart Penny Wong will also attend the meeting.
Rajnath Singh and Richard Marles will also hold a bilateral meeting on defence cooperation on November 20, which will be followed by the 2+2 Dialogue. The inaugural 2+2 ministerial dialogue took place in New Delhi in September 2021. 
 
"India and Australia are pursuing a Comprehensive Strategic Partnership and the visit of Minister Marles is expected to give further impetus to the collaboration as well as bilateral defence cooperation," an official said, adding that the two countries are expected to discuss wide-ranging strategic, defence and security issues of mutual interest during the 2+2 dialogue and the bilateral Defence Ministers' meeting.
"These discussions would cover bilateral, regional and global matters. Both sides will also exchange views on shared priorities for strengthening minilateral and multilateral cooperation," he said. Besides, Jaishankar and Wong will hold the 14th Foreign Ministerial Framework Dialogue (FMFD) on November 21 to take stock of cooperation under the Comprehensive Strategic Partnership and exchange views on regional and global issues of mutual interest.
Last Updated Nov 18, 2023, 1:32 PM IST