Meter Down in Bengaluru: Private autos, taxis and buses to go off the road on Sept 11 against Shakti Yojana
Auto, taxi, and private bus owners in Bangalore are striking against the Shakti Yojana, citing government inaction. Over 5 lakh autos, 3 lakh taxis, and 55000 private buses will participate in the strike, disrupting transportation services. Corruption allegations in the transport department have also emerged.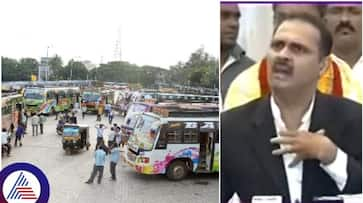 Auto, taxi, and private bus owners in Bangalore are frustrated due to the Shakti Yojana, which has led them to suspend all services on September 11. Thirty-two state organizations have called for this strike, effectively shutting down the city from Sunday midnight to Monday night.
The strike, organized by the Union of Private Transport Organizations, is in response to the government's perceived lack of action regarding the concerns of private transport owners. Despite promises from Transport Minister Ramalingareddy, no concrete steps have been taken to address their issues.

Shakti scheme: Private Buses and taxis to go on strike on July 27
Private transport owners had given the government until August 30 to address their problems, but little has been done, causing widespread dissatisfaction in the industry.
Nataraj Sharma, President of the Union of Private Transport Organizations, emphasized that the strike would bring Bangalore to a halt, with over 5 lakh autos, 3 lakh taxis, and 55000 private buses across the state participating.
Sharma warned that those defying the strike and using the roads would do so at their own risk, as organizers would not take responsibility for any incidents. He also stated that the government would be directly responsible for any strike-related consequences.

Karnataka to purchase 4000 new buses to address shortage
Additionally, allegations of corruption in the transport department surfaced, with claims of commissions from companies like Ola and Uber. Hemant Kumar, an official in the transport department, was accused of misleading the public and the minister. Evidence of corruption within the department is expected to be made public soon.
The strike is likely to significantly disrupt the city's transportation services, affecting millions of private vehicle owners and daily activities.
Last Updated Sep 1, 2023, 6:23 PM IST