Karnataka Congress gears up for Lok Sabha Election 2024 battle
In a bid to strengthen their position for the upcoming Lok Sabha elections in 2024, the Karnataka Congress Committee has convened a meeting of party members, led by and Party President and Deputy Chief Minister DK Shivakumar and Chief Minister Siddaramaiah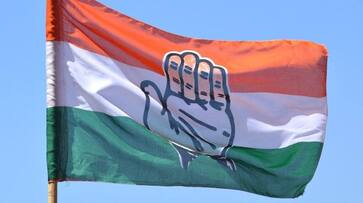 With a focus on party organization and preparation strategies, the meeting aims to rally District, Taluk, and Block Congress presidents to launch door-to-door information campaigns, highlighting the government's ambitious 5 guarantee schemes. 
These campaigns are geared towards not only informing the public but also fast-tracking the party's organization efforts and assembling a formidable team for the Lok Sabha elections, with the goal of securing at least 20 Lok Sabha seats.
The meeting also aims to address concerns that the party has overlooked grassroots workers post their ascent to power, and endeavors will be made to mend relationships and restore confidence among activists. 
Rahul, Sonia to attend Gruha Lakshmi Yojana launch: Karnataka CM Siddaramaiah
A key focal point of discussion lies in the promotion of guarantee scheme implementation, drawing inspiration from the assembly election campaigns. Sector-specific programs will likely be a key part of the discussion , and emphasis will be placed on successful execution. 
Plans for recruitment to the corporation board are in motion, prioritizing individuals who have actively contributed to the party's endeavors. The leadership aims to reassure workers by promising all-encompassing opportunities.
Attended by an array of prominent figures, including KPCC Executive Committee members, AICC representatives, MLAs, MPs, and previous Lok Sabha and Assembly candidates, the meeting seeks comprehensive input on the strategies to be employed. 
The significance of the door-to-door campaign, led by local Congress presidents, remains a pivotal topic. 
With a parallel focus on rejuvenating the party structure and meticulously planning for the Lok Sabha elections, the event seeks to shape a program capable of clinching 20 seats.
The roles of activists and leaders, critical to the execution of these strategies, will also undergo extensive discussion. Moreover, the appointment of corporation-board members will be deliberated upon to rebuild worker confidence.
From the India Gate: Rahul Gandhi's Twenty20 challenge, hands-free bribe and more
Overall, the Karnataka Congress meeting signifies a determined effort to synchronize resources and energy towards a resounding success in the 2024 Lok Sabha elections, while addressing past grievances and reinvigorating the party at all levels.
Last Updated Aug 14, 2023, 1:37 PM IST