Rahul, Sonia to attend Gruha Lakshmi Yojana launch: Karnataka CM Siddaramaiah
Anticipation builds as Karnataka Chief Minister Siddaramaiah announced that Congress leader Rahul Gandhi will be present at the inauguration of the Gruha Lakshmi Yojana in Belgaum. During a media conference held at the Belgaum district stadium, the designated venue for the event, Siddaramaiah also informed that Sonia Gandhi had been extended an invitation.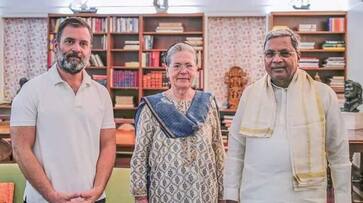 With expectations soaring, over one lakh attendees are anticipated to take part in this momentous occasion at the end of the month. Highlighting the comprehensive approach towards equitable development, each department has been launching its own guarantee scheme. 
Notable schemes like Shakti Yojana in Bengaluru, Gruha Jyoti in Kalburgi and Annabhagya Yojana in Mysuru have already made their mark. Now, Gruha Lakshmi Yojana takes centre stage in Belgaum. 
Karnataka Budget 2023: CM Siddaramaiah elaborates on Gruha Lakshmi scheme
Siddaramaiah revealed that a youth fund scheme namely Yuva Nidhi is also on the horizon, set to launch in either December or January 2024.
The staggering statistics reveal the tremendous response to Gruha Lakshmi Yojana, with an impressive 1 crore 6 lakh out of 1 crore 33 lakh eligible families already registered as beneficiaries. 
These guarantee schemes, as Siddaramaiah emphasized, underline the government's resolute commitment to uplift the underprivileged and empower women.
In preparation for the grand event, Deputy Chief Minister DK Shivakumar has diligently overseen the instructions provided to officials regarding arrangements at the district stadium. 
A noteworthy presence graced the occasion, including District In-charge Minister Satish Jarakiholi, Women and Child Welfare Minister Lakshmi Hebbalkar, Legislative Council Member Channaraj Hattiholi, and MLA Asif Seth, among others.
Prior to this, the Chief Minister and Deputy Chief Minister conducted a thorough inspection of the CPD grounds, further solidifying the meticulous planning underway to ensure the success of this auspicious event. 
He spoke to reporters after inspecting the venue of the Gruha Lakshmi Yojana launch program at CPD premises and district stadium in the city on Friday. Earlier it was said that Gruha Lakshmi Yojana will be launched on August 20. After that, it was postponed to August 27. It has now gone ahead for the third time.
As the stage is set for Gruha Lakshmi Yojana's unveiling, all eyes turn to the end of the month when political leaders, dignitaries, and citizens alike will come together to celebrate this significant step towards empowerment and progress.
Last Updated Aug 12, 2023, 1:16 PM IST