Hasanamba Temple's annual jatra mahotsav sets new record, hits 6 crores in 12-day celebration
During the 2023 Jatra Mahotsav of Hasanamba Devi in Hassan, a miraculous god in Karnataka, an impressive amount of 6.15 crore rupees was collected within just 12 days. This substantial sum is a result of the sale of Darshan tickets and the popular ladoos.The counting of the hundi, where offerings are made, has recently commenced, and authorities anticipate additional crores to be accounted.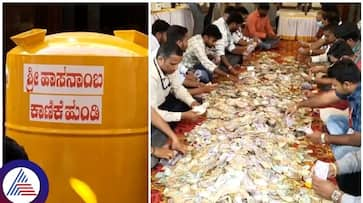 The Hasanamba Jatra Mahotsav, which spanned 14 days from November 2 to November 15, numerous politicians were observed visiting the temple during this timeframe. The holy place of the Hasanamba Devi temple was ceremoniously closed on Wednesday afternoon at 12.23 p.m. The temple, renowned for its annual miracle where a lit lamp remains aflame for an entire year, attracts devotees only during the 15 days it opens its doors for darshan. 
The significant revenue of 6.15 crores from ticket sales and ladoos during this year's festivities has set a potential record in the history of Hasanamba, as indicated by officials from the management board. The counting of hundi offerings, involving over 150 individuals, is currently underway, and it is anticipated to reveal additional substantial contributions. 
Also Read:Even after one year, lamp still burning, flower still fresh: Interesting facts about Hasanamba temple
However, a distressing incident unfolded at the temple on Saturday, which caused chaos and minor injuries due to an electric shock, leading to a stampede. In response to this unfortunate incident during Hasanamba darshan, the district administration swiftly cancelled the darshan for dignitaries and very dignitaries (VVIPs).
The closure of the temple's holy of the holies marked the end of the 2023 Hasanamba Jatra Mahotsav, attended by dignitaries including District In-Charge Minister K.N. Rajanna and District Collector Satyabhama. The successful event reinforces Hasanamba Temple's cultural significance, drawing devotees from across the state for its limited annual darshan period.
Last Updated Nov 16, 2023, 2:51 PM IST