BMTC reduces night-time fares to regular ticket prices, applicable from September 6
Bengaluru's BMTC bus services previously had higher nighttime fares but have now implemented a uniform fare system at all hours starting from September 6, 2023, to benefit late-night commuters. BMTC is ensuring a smooth transition by instructing managers, informing staff, and checking ticketing systems to prevent revenue errors.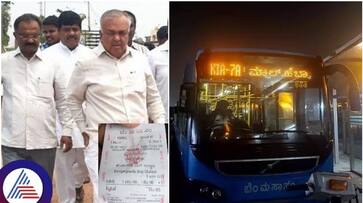 Bengaluru's bus services, operated by the Bengaluru Metropolitan Transport Corporation (BMTC), used to have different fares for morning and nighttime travel. In a new move, Transport Minister Ramalinga Reddy has now introduced a new fare system that reduces the cost of nighttime journeys.
Previously, regular fares applied from 5 am to 11 pm, but passengers travelling between 11 pm and 5 am had to pay extra, around 1.5 times the regular ticket price. Now, a new order has been issued, making the fare the same at all times. This change is intended to make it easier for people who work late or need to travel during the night.

KSRTC introduces UPI scan for seamless ticketing
Previously, passengers were charged 1.50 paise, which is one and a half times the normal fare of 1 rupee for night service travel. Now, an order has been issued to establish a consistent normal fare at all times. The new fare system will into effect from September 6, 2023. BMTC aims to ensure a smooth transition to this uniform fare system for passengers travelling on its regular bus services. 

BMTC to launch electric prototype buses in a move to tackle pollution
They have instructed senior managers to implement the fare changes correctly and have informed supervisors and drivers about the new fare rules. The organization is also checking electronic ticketing machines (ETMs) and waybills to prevent any errors that could affect its revenue.
This move of BMTC will not only facilitate easy commuting but also help the passengers who often travel during night time in the city.
Last Updated Sep 7, 2023, 11:13 AM IST