Bengaluru woman shares photo of peeling vegetables during standstill traffic, Tweet goes viral
Bengaluru woman goes viral for peeling vegetables during traffic jam, sparking discussions about the city's congestion and creative ways to pass the time.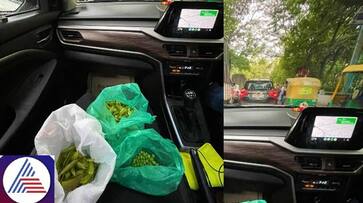 Bengaluru's notorious traffic often leads to unusual sights and behaviours, with people finding creative ways to pass the time during long traffic jams. Recently, a Bengaluru woman became a social media sensation when she shared a photo of herself peeling vegetables while stuck in traffic, sparking a lively discussion about the city's traffic congestion.
The woman, identified as Priya, posted the picture on social media with the caption, "Being productive during peak traffic hours." Her post quickly went viral, amassing nearly 50,000 views and around 100 comments.

Jawan and Peak Bengaluru: Techie works on laptop while watching movie, photo viral
Some users humorously remarked about the potential for learning and growth while navigating Bengaluru's peak-hour traffic, crediting visionary leaders for narrowing the city's roads. Others jokingly suggested that a startup might emerge with the idea of mobile hydroponics farms, where plants could grow while commuters wait in traffic.

Bengaluru's unpredictable traffic: Helicopter surprise stalls road, social media buzz follows
Interestingly, a few users pointed out that peeling vegetables during a commute is a common practice in Mumbai's local trains, aimed at saving time and boosting productivity. One user drew parallels between Priya's act and a scene from the movie "The Lunchbox," where actor Nawazuddin Siddiqui's character cut vegetables during his Mumbai local train commute.
One techie Abhinay Omkar (@abhiomkar) took all the attention to his comment with a classic Bengalurean expression of startups and said - "Haha.. I won't be surprised if a startup comes up with an idea of mobile hydroponics farms. Plants grow as a vehicle reaches Indiranagar from Silkboard midst of Bangalore traffic"
Last Updated Sep 17, 2023, 11:04 PM IST