Jawan and Peak Bengaluru: Techie works on laptop while watching movie, photo viral
A viral photo showed a techie working on a laptop in a movie theater in Bengaluru, sparking debate about work culture and etiquette. Some found it disruptive, while others highlighted the city's unique work-life blend.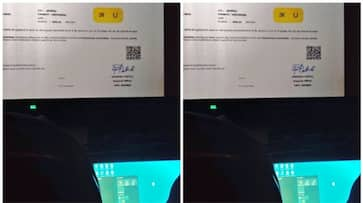 Bengaluru, often dubbed the 'Silicon Valley of India', is no stranger to headlines about its intricate traffic, high-paying corporate jobs, soaring rents, and expensive auto fares. It's also known for its tech-savvy population, including techies who sometimes find themselves working in rather unusual places.
Recently, a photo of a techie engrossed in work in an unexpected location went viral on social media. The image was shared by user Neelangana Noopur with a caption that read, "When #Jawan first day is important but life is #peakbengaluru. Observed at a #Bangalore INOX. No emails or Teams sessions were harmed in taking this pic. @peakbengaluru"

Bengaluru's unpredictable traffic: Helicopter surprise stalls road, social media buzz follows
The photo depicted a techie diligently working on a laptop in a movie theatre just moments before the film 'Jaawan' began. This peculiar sight stirred up a discussion on social media, with some users expressing concerns that such behaviour could disrupt the movie-watching experience for others. 
The post quickly gained traction and prompted various opinions. One user commented, "WFH (Work From Home) is rampant not only in Bangalore but all over India! Nevertheless, it's entirely impolite and undisciplined to disturb other moviegoers who are peacefully enjoying films! I would have summoned the bouncers and had you removed." 

'Jawan': SRK craze in Bengaluru, tickets costing Rs 2400 sold out!
Another user added, 'This is simply absurd! Even the light from a mobile screen can be bothersome in the theatre. So, the glare from a laptop would infuriate me.' 
The incident shed light on the unique work culture prevalent in Bengaluru and how tech-savvy professionals sometimes blur the lines between work and leisure, with people often getting highlighted for working under pressure even during their entertainment hours.
Last Updated Sep 11, 2023, 3:37 PM IST