Bengaluru: Speeding car rams into bikes in traffic, video goes viral (WATCH)
In Bengaluru's Hulimavu, an SUV mishap due to a signal failure led to collisions with multiple bikes, injuring four. A video of the incident circulated on social media, capturing the slow-moving SUV hitting stationary bikes. Quick bystanders averted severe injuries, and an investigation is ongoing as the car was seized, with a case filed.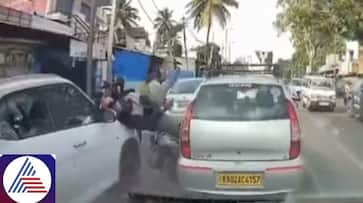 In a startling incident in Bengaluru, an SUV collided with multiple bikes due to an acceleration mishap, leaving four individuals injured in Hulimavu in Silicon City.
A video capturing the incident has been making rounds on social media. On Monday, chaos erupted as an SUV, travelling at a slow pace on a bustling road in Hulimavu, collided with three bikes. The 17-second footage reveals the riders falling onto the car's bonnet and tumbling off, their falls resembling waves.

Bengaluru traffic jam holds Ferraris hostage: Thousands of HP powerless (WATCH)
The collision unfolded on a narrow lane, some riders veering left while others fell amidst other vehicles. Quick bystanders rushed to their aid, preventing further harm, and fortunately, the riders escaped fatal injuries.
The mishap occurred near Kalena Agrahara in Hulimavu when vehicles halted at a signal. Unexpectedly, the SUV driver, mistakenly accelerating instead of applying the brakes due to a signal failure, rammed into stationary bikes. As a result, four individuals suffered injuries.

How a ragpicker in Bengaluru got lucky by finding USD 3 million in trashbin
The entire sequence was captured by a dashboard camera mounted on another passing vehicle.
A representative from the Hulimavu traffic station, speaking to a news source, explained, "The driver mistakenly pressed the accelerator instead of the brake when the signal failed, leading to this unfortunate accident. The car has been seized, a case filed, and an investigation is underway."
Last Updated Nov 13, 2023, 1:38 PM IST