Bengaluru traffic jam holds Ferraris hostage: Thousands of HP powerless (WATCH)
Bengaluru's notorious traffic snarls caught luxury Ferraris in a viral video titled "FERRARI's TakeDown Bengaluru." Shared by @pavangamemaster, the clip humorously showcases the high-performance cars stuck in the city's gridlock. With over 4 million views, social media reactions reflect a mix of amusement and frustration, highlighting the irony of owning a Ferrari in Bengaluru's congested streets. Ashneer Grover adds humour, noting the challenge of having "so many horses and being stuck in traffic."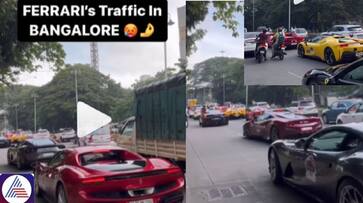 Bengaluru often hailed as the bustling IT hub of India with its booming tech industry and pleasant climate, is no stranger to the infamous gridlock that defines its streets. Whether it's the nerve-wracking traffic snarls or the daunting task of house-hunting, the city frequently graces headlines for its often blockages in the traffic. 
In a recent viral video, the irony of Bengaluru's traffic situation took centre stage as a fleet of luxurious Ferrari supercars found themselves trapped in a seemingly endless traffic jam on one of the city's busy streets.

Bengaluru traffic police release parking norms for ICC World Cup match between NZ and PAK at Chinnaswamy
The video, aptly titled "FERRARI's TakeDown Bengaluru," was shared by Instagram user @pavangamemaster, capturing the essence of the city's notorious traffic gridlock. The footage showcased various models of these exquisite Italian sports cars patiently waiting amidst the chaos.
Ashneer Grover, co-founder of BharatPay and former judge on the Indian version of Shark Tank, couldn't resist commenting on the situation with a touch of humour. "It's like Bengaluru scrapped Ferrari! Looks like a lot of There are horses, and everyone is stuck in traffic," he quipped.
The clip, viewed over 4 million times and counting, garnered a flurry of reactions on social media. Users expressed a mix of amusement and frustration at the sight of these high-performance vehicles succumbing to the challenges of Bengaluru's traffic.

15 LPA isn't enough? Bengaluru man's quest for bigger earnings
One user humorously pointed out, "Imagine spending 6 crores just to be stuck in traffic with the rest of Bengaluru," highlighting the irony of owning a Ferrari amid the city's congestion. Another user remarked, "A normal day in Mumbai," drawing parallels to the traffic struggles faced in another bustling metropolis.
Amid the comments, one stood out—Ashneer Grover's playful take on the situation. "I feel the pain of having so many horses and being stuck in traffic," he expressed.
Last Updated Nov 9, 2023, 11:48 AM IST