How a ragpicker in Bengaluru got lucky by finding USD 3 million in trashbin
Bengaluru ragpicker Saliman Sheikh finds $30,000 in discarded US dollars, sparking a police investigation. The currency's legitimacy is questioned, and authorities suspect possible counterfeiting. Commissioner Dayanand initiates action, sending the notes for verification. Plans for a trap to identify those responsible for dumping the money in a trash bin are announced.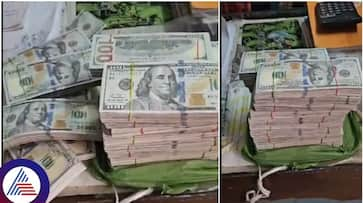 A lucky ragpicker in Bengaluru stumbled upon a significant sum of US dollar notes discarded in a trash bin, bringing attention to the state's illegal movement of foreign currencies. The discovery was made by Saliman Sheikh, a man who routinely collected rags in the Veerannapalya area.
A total of 25 bundles, each containing 100-dollar denomination notes, were recovered by Sheikh, with an estimated value of Indian Rupees 30 lakhs. The dollar notes were reportedly found in a black bag near the Veerannapalya railway gate, left there by unknown individuals.

ODI World Cup 2023: Rain threat looms over New Zealand vs Sri Lanka clash in Bangalore
Upon learning of the discovery, a local resident named Karim sought guidance on social media, reaching out to City Police Commissioner B. Dayanand. Commissioner Dayanand promptly shared the information with the Hebbal police, initiating their involvement in the case.

Spotlight on civic apathy in Bengaluru, white-topped road caves in at a busy stretch in the I-T capital
Police authorities are currently investigating the authenticity of the dollar notes, expressing suspicion that they may be colour photocopies. While ruling out the possibility of miscreants attempting to create counterfeit notes, the Hebbal police have sent the found currency for verification to determine its legitimacy. The outcome of this verification will ascertain whether the discovered dollar notes are genuine or fake.
In response, the police have announced plans to set up a trap to trace the individuals responsible for discarding the notes in the dustbin.
Last Updated Nov 9, 2023, 11:49 AM IST