Bengaluru-Hyderabad Vande Bharat likely to commence from September 25; Check details
Karnataka is launching a new Vande Bharat Express train between Bengaluru and Hyderabad, cutting travel time to just eight and a half hours. The train will serve IT professionals and students who frequently travel between the two cities. With an average speed of 71 km/h, it offers a faster and more efficient option for commuters.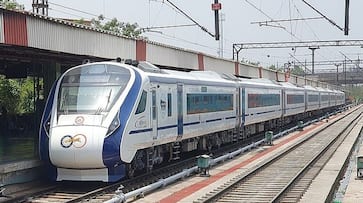 Karnataka is set to welcome its third Vande Bharat Express train, which will run between  Bengaluru and Hyderabad. This high-speed train connecting the two IT hubs is scheduled to commence operations on September 25, a day after its official inauguration.
The Vande Bharat Express will ply the route between Bengaluru's Yeshwantpur station and Hyderabad's Kacheguda station, significantly reducing travel time to just eight and a half hours. This efficient train will maintain an average speed of 71 kilometres per hour.

Kerala's second Vande Bharat Express arrives in Thiruvananthapuram; Read details
While on its journey, the train will make stops at Mahbubnagar, Kurnool, Anantapur, and Dharmavaram. However, there are no scheduled stops at Raichur along this route. The pricing details for this train service have not been disclosed as of now.

Third Vande Bharat train from Bengaluru to Hyderabad likely by August end
The introduction of the Vande Bharat Express on this route is expected to greatly benefit the many IT professionals, entrepreneurs, and students who regularly travel between Bengaluru and Hyderabad. Currently, there are 19 trains connecting these two cities, with varying frequencies from daily to weekly. The fastest train on this route is the Duranto Express, which typically takes around 9 to 10 hours for the journey.
The new Vande Bharat Express is set to revolutionize travel between Bengaluru and Hyderabad by significantly reducing travel time and providing a faster and more comfortable train service. With an average speed of 71 mph, it is set to become a preferred choice for passengers on this route.
Last Updated Sep 21, 2023, 4:30 PM IST