Third Vande Bharat train from Bengaluru to Hyderabad likely by August end
Karnataka will receive its third Vande Bharat train, connecting Bengaluru and Hyderabad. The train, covering 610 km in 7 hours, mostly benefits travelers between the two cities. It runs only 80-85 km within Karnataka, drawing criticism from some who hoped it would serve more regions in the state. Inauguration expected by August end.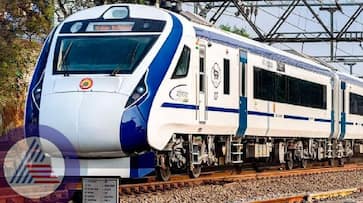 Karnataka will get its third Vande Bharat train by August end. The new Vande Bharat is said to join Bengaluru and Hyderabad, between Yeshwantpur and Kachiguda railway stations. Sources suggested that this train is set to commence at the end of August, and the travel time is said to be 7 hours.
There are currently two Vande Bharat trains running between Chennai-Bengaluru and Dharwad-Bengaluru. The third train between Bengaluru-Hyderabad is said to be a project of the South Central Railway and covers a distance of 610 km, within 7 hours. However, it is said to run only 80 to 85 km in Karnataka and the rest will be continued at the neighbouring states.

13 features that make Vande Bharat Express trains special
Sources say that it will leave Kachiuguda early morning and reach Yeshwantpur by 1 pm. Later, it will leave at the afternoon and reach Kachiguda by night. It will surpass Yeshwantpur, Dharmavaram, Done, Kurnool Nagara, Gadwal Junction, Mehaboob Nagar, Shaad Nagara and Kachiguda stations.
The train has been running a trial between Kachiguda and Done stations, and it will continue the trial run until Yeshwantpur within the next few days, states the Central office of South Central Railways.

PM Modi flags off Karnataka's 2nd Vande Bharat from Dharwad to Bengaluru
However, the train does not benefit Karnataka much, as it only travels 80-85 km in the state. Post Yeshwantpur, it will directly enter Andhra Pradesh's Hindupur. It will majorly benefit those who travel between Hyderabad and Bengaluru regularly. If the train had surpassed Raichur and Guntakal, it would have been beneficial for the passengers travelling to Mantralaya and parts of Kalyan Karnataka, stated a Railway activist Krishna Prasad.
Post the completion of the trial run, it is expected to be inaugurated on August 6 or August 15. Sources claim that it will surely be launched by August end. The official announcement from the railways is still awaited.
Last Updated Aug 3, 2023, 2:53 PM IST