Bengaluru: Commuters rally for Purple Line metro operations with #StartPurpleLineOperations campaign
Commuters in Bengaluru are urging the government to start operations on the Metro Purple Line from Challaghatta to Whitefield, following recent traffic congestion issues. They emphasize the need for a direct metro link to ease commuting challenges.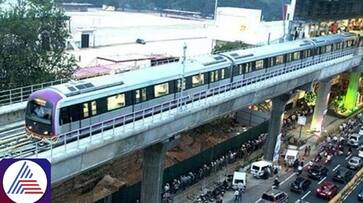 Commuters in Bengaluru are making their voices heard on social media, specifically on Platform X (formerly known as Twitter), as they launch a campaign urging the government to initiate operations on the Metro Purple Line, running from Challaghatta to Whitefield.
This call for action follows a recent traffic congestion issue on the Outer Ring Road (ORR). Many believe that if the Bengaluru Metro Rail Corporation Limited (BMRCL) had opened the entire Whitefield-Challaghatta Metro line, it could have eased the commuting challenges faced by the public.

Bengaluru: BMRCL likely to inaugurate KR Pura-Byappanahalli metro stretch on Oct 2
During the traffic congestion on the ORR, hundreds of passengers were observed waiting at the KR Puram station for the Metro Feeder Bus to transport them to BYP. Bengaluru Metro Updates shared a video on Platform X, showing the tired expressions of commuters at Baiyappanahalli while using the Foot Over Bridge to reach other parts of the city via the metro.
In a post, Bengaluru Metro Updates emphasized, "While people are waiting in huge numbers for Metro Feeder buses at KR Puram, the situation at #Baiyappanahalli is equally worse (every day)! Look at the tired faces of people taking FOB & heading to other parts of the City in Metro! The solution is pretty simple #StartPurpleLineOperations."
One user (@ChristinMP_) highlighted the escalating daily costs of delays in Metro construction. He stated, "Each day of Metro construction delay costs an additional Rs 1.5 crore. KR Pura-Byappanahalli link to increase daily ridership by 70K. Delay in opening ready-to-operate section causing additional revenue loss & inconvenience to public transport users."

First project of suburban railway in Bengaluru to be approved by year-end

People have been urging for the filing of a Public Interest Litigation (PIL) at the High Court to initiate Purple Line operations immediately, with judicial intervention. Authorities have already given the green signal for the KR Pura-Byappanahalli and Kengeri-Challaghatta metro stretches. However, the BMRCL has not confirmed when the complete Purple Line metro will be operational for the public.
The lack of a direct link between Byappanahalli and KR Pura has posed a significant challenge to passengers. They are required to disembark at these stations and catch feeder buses, particularly during peak hours when even two-wheelers struggle to navigate the stations due to heavy traffic congestion. In light of these commuting difficulties, the public fervently urges the immediate commencement of metro operations to address these issues.
Last Updated Oct 5, 2023, 3:22 PM IST