Bengaluru: BMRCL likely to inaugurate KR Pura-Byappanahalli metro stretch on Oct 2
The KR Pura Metro line in Bengaluru is set to be inaugurated on October 2nd, promising convenient connectivity for IT professionals from Kengeri to Whitefield. It eliminates the need for transfers at KR Puram, providing much-needed relief for commuters.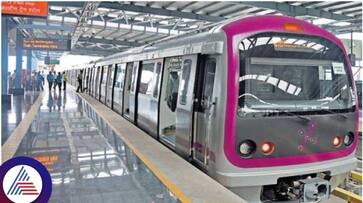 The upcoming inauguration of the KR Pura Metro line from Baiyappanahalli has brought excitement among IT employees and commuters in Bengaluru. The inauguration of this line is scheduled for Gandhi Jayanti on October 2nd, and it is expected to ease travel for thousands of tech professionals commuting from Kengeri to Whitefield.
The route received a safety inspection from the Delhi Metro Railway Safety Commissioner on September 21st, subsequently receiving the green signal to commence commercial services. This new line will offer non-stop connectivity from Kengeri to Whitefield, greatly benefiting IT employees who previously faced difficulties due to incomplete construction.

Bengaluru: Here's how you can book auto through Metro Mitra app at Jayanagar metro
Previously, passengers travelling on the Whitefield to Byappanahalli route had to disembark at KR Puram and find alternative transportation options, causing inconvenience. The inauguration of the KR Pura Metro line is set to bring much-needed relief to commuters.
Prime Minister Narendra Modi inaugurated the White Field Road from KR Puram on March 25th, marking a significant development. However, the Missing Link Metro route, which connects Whitefield to Byappanahalli, was set to be officially launched during the third week of August. Now, preparations are underway to open this crucial new route to the public on Gandhi Jayanti.
Last Updated Sep 30, 2023, 12:16 PM IST