Viral video: Dancers dressed as 'The Nun' join traditional Garba dance; sparks mixed reactions (WATCH)
Viral video shows people dressed as 'The Nun' joining a traditional Garba dance, sparking mixed reactions about blending Halloween with a sacred tradition.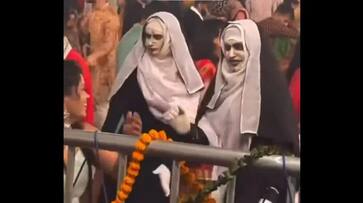 A video of two individuals dressed as 'The Nun' characters dancing at a Garba night has gone viral. The clip, shared on social media, shows these dancers, imitating the iconic horror movie character Valak from 'The Nun,' enthusiastically participating in the traditional Garba dance during Navratri festivities. Their costumes include long black gowns and head scarves, staying true to the Hollywood horror character's appearance. They joined other traditionally dressed Garba dancers at the event.
The video received mixed reactions on social media. Some users found it humorous, while others were offended, considering it a blend of Halloween and Garba. One user commented, "Product built for Silicon Valley trying to fit into the Indian market," highlighting the uniqueness of the situation. Several people shared the video, sparking a variety of responses.
While some dubbed it as "Halloween Garba" and expressed amusement, others were less pleased, feeling that it disrupted the sacred tradition of Garba. One user humorously mentioned, "Exploring the Intersectionality between Garba and Halloween." Another user hoped the costumed dancers won the "Best dressed award." However, a critical view emerged as one user considered the video "terrible" and stated that such an act was blasphemous as Garba is a religious ceremony to honor Goddess Maa Durga.
The video's location remains unknown.
Users on social media had varying opinions, with some appreciating the creativity and humor while others felt it was disrespectful to blend a religious tradition with Halloween-inspired costumes.
Last Updated Oct 23, 2023, 6:52 PM IST