Teacher's Day special: Meet Urdu school headmaster who has been funding kindergarten
Headmaster L Reddy Naik of Tambrahalli Urdu School personally funds LKG and UKG classes, promoting education for underprivileged students. He fosters religious harmony, ensures student attendance, and offers additional support. Despite challenges, he aims to donate 2 lakhs for school development if he acquires land.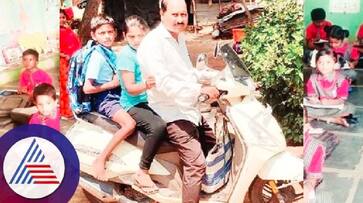 Every teacher is a guiding light in a student's life. A headmaster of an Urdu government school has been inspiring the society to take the initiative to provide education to the students. L Reddy Naik, headmaster of Tambrahalli Urdu Junior Primary School has started his own LKG and UKG classes since 2016-17 at his own expense. He has been the guiding light for poor students. 
Since the academic year 2016-17, Naik has been personally funding the LKG-UKG education at the Urdu school, initially hiring a teacher and paying their salary himself. Today, 31 students are benefitting from this initiative, thanks to parent meetings, door-to-door visits, and efforts to encourage children to attend school.

Teachers' Day 2023: President Murmu to confer National Teachers' Award to 75 mentors today; check details
With 101 students enrolled, the school boasts the highest student population among the youngest primary Urdu schools in the district. Naik even established a study centre in his home, where he offers free training to underprivileged children during school hours.
Naik's dedication goes beyond the classroom. He ensures that no child is left behind; if a student misses school, he personally visits their home to bring them back. He often uses his own bicycle to transport children to school and provides textbooks and educational materials to impoverished students.
Despite being an Urdu school, Naik fosters religious harmony among the students by celebrating Hindu-Muslim festivals like Raksha Bandhan, Shri Krishna Janmashtami, and the Ganesha festival. The school promotes the idea that all are equal, with Hindu and Muslim children studying together and imbibing values of unity and respect.
The school's academic achievements are noteworthy too, with extra practice sessions and special teaching beyond regular school hours. In the 2022-23 academic year, 11 out of 12 fifth-grade students were selected for Morarji Residential School, demonstrating their excellent performance.
L. Reddi Naik, the Headmaster of Tambrahalli Urdu School, expressed, "Tambrahalli villagers, SDMC members, and children's guardians are wholeheartedly dedicated to improving the education at our Urdu school. Just recently, on the 29th, we organized a special English fair at the district level. I am committed to donating 2 lakhs to acquire land for the school. My primary goal is the educational development of underprivileged children."
To enhance the educational experience, the school organizes events such as summer camps, children's festivals, science exhibitions, English fairs, and parents' activity workshops, ensuring all-round educational progress. This commitment allows the school to compete with private institutions successfully.

Teachers' Day: 20 inspiring quotes of Dr Sarvepalli Radhakrishnan
However, the school faces challenges due to a lack of proper infrastructure and land. Despite this, Naik has pledged to donate 2 lakhs for the development of the school if he acquires a plot in the village.
Yuvaraja Naik, DDPI Vijayanagar District, stated, "Children's favourite sir, L. Reddy Naik has a deep concern for education and is truly passionate about it. If there is a proposal to allocate land for LKG, UKG, and the school, we will provide the land after discussing the matter with the District Collector."
Last Updated Sep 5, 2023, 5:03 PM IST