Teachers' Day: 20 inspiring quotes of Dr Sarvepalli Radhakrishnan
Dr Sarvepalli Radhakrishnan's contributions to philosophy, education, and diplomacy left a lasting legacy in India and the world. His work continues to be studied and admired by scholars, educators, and philosophers around the globe.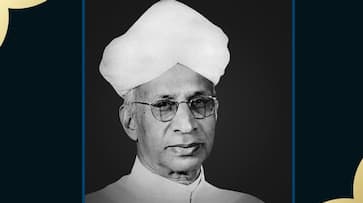 Today, September 5, is Teachers' Day. The special day is dedicated to honouring and appreciating the significant contributions of teachers and educators to society. This date holds particular significance in India as it marks the birthday of Dr Sarvepalli Radhakrishnan, a renowned philosopher, teacher, and the second President of India, who played a pivotal role in shaping the educational landscape of the country. Here are 20 inspiring quotes by Sarvepalli Radhakrishnan:
* "Reading a book gives us the habit of solitary reflection and true enjoyment."
* "The true teachers are those who help us think for ourselves."
* "A literary genius, it is said, resembles all, though no one resembles him."
* "The worst sinner has a future, even as the greatest saint has had a past."
* "Man is a paradoxical being—the constant glory and scandal of this world."
* "To succeed in your mission, you must have single-minded devotion to your goal."
* "The true basis of morality is utility; that is, the adaptation of conduct to the promotion of the general welfare and happiness."
* "The end-product of education should be a free creative man, who can battle against historical circumstances and adversities of nature."
* "It is not God that is worshipped but the authority that claims to speak in His name."
* "The best way to solve problems and fight against war is through dialogue."
* "Religion is behaviour and not mere belief."
* "A life of joy and happiness is possible only on the basis of knowledge and science."
* "Books are the means by which we build bridges between cultures."
* "The true teacher defends his pupils against his own personal influence."
* "It is not the language we use that gets us into trouble; it's the language we don't."
* "The philosophy of life is a harmony between thought, action, and feeling."
* "A society which is mobile, which is full of channels for the distribution of a change occurring anywhere, must see to it that its members are educated to personal initiative and adaptability."
* "All our world religions breathe the same basic idea: the idea of love, compassion, and forgiveness."
* "The only way to make life worth living is to live it dangerously."
* "The destiny of India is being shaped in her classrooms."
Last Updated Sep 5, 2023, 7:40 AM IST