Students free to dress however they want...' Karnataka Minister MC Sudhakar over allowing Hijab at govt exams
Karnataka's Education Minister, MC Sudhakar, affirms students' right to wear hijabs during government exams unless a court order dictates otherwise. He emphasizes students' freedom to choose their attire, highlighting the permissibility of hijabs in exams like NEET. Sudhakar reinforces the state's commitment to secularism and individual rights, addressing the ongoing hijab controversy in the region.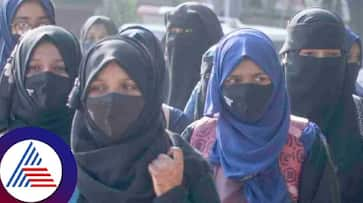 During a recent progress review meeting of the Higher Education Department, led by Chief Minister Siddaramaiah, Karnataka's Education Minister, MC Sudhakar, took the opportunity to address media concerns, dispelling any confusion related to the matter of wearing hijabs during examinations. Expressing his frustration with individuals who seek to stir controversy in this matter, Sudhakar stressed the importance of student's rights to choose their attire freely.
Sudhakar provided clarity on the matter by stating that the wearing of hijabs is permissible for government exams, except in cases where there is a court order to the contrary. Notably, he specifically highlighted that the National Eligibility cum Entrance Test (NEET) permits the use of hijabs during the examination.

Karnataka's new Congress govt may withdraw circular banning hijab; warns of RSS ban
The Higher Education Minister emphasized that the issue should not be embroiled in confusion or disputes, underlining that examinees have the liberty to wear clothing of their choice.

Karnataka Examinations Authority allows Hijab during exams but with a rider
Sudhakar reiterated the state's dedication to secularism, asserting that "This is a secular country, and people are free to dress however they want." He also drew attention to the fact that imposing restrictions on students would be a violation of their individual rights.
The Hijab controversy initially surfaced in January 2022 when Government PU College in Udupi allegedly barred six girls wearing hijabs from entering the premises. This incident triggered protests by the affected girls and subsequently led to demonstrations in other parts of the state. In solidarity, boys from several colleges in Udupi attended classes while wearing saffron scarves in protest. This issue, in turn, ignited protests and agitations in various locations across Karnataka.
Last Updated Oct 23, 2023, 1:05 PM IST