Karnataka Examinations Authority allows Hijab during exams but with a rider
The Karnataka Examinations Authority (KEA) permits hijabs during exams amidst religious tensions in the state. The decision follows prior controversies over hijab-wearing in educational institutions. KEA provides guidelines for hijab-wearing candidates during the upcoming exams, and they are urged to arrive an hour early for inspection. The issue was previously raised in the Udupi Hijab controversy in 2021, sparking debates on religious expression and dress codes in Indian schools.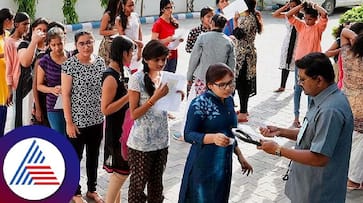 The Karnataka Examinations Authority (KEA) is set to conduct examinations for the direct recruitment of 670 vacancies in various government corporations and boards on October 28 and 29. The KEA has issued guidelines regarding the dress code for the examination.
Male candidates are advised to wear half-sleeved shirts and plain trousers without pockets or with low pockets. Full-sleeve shirts, kurta pyjamas, jeans, and other embroidered clothing are prohibited. 

Karnataka hijab row: Girl students move Supreme Court for permission to take exam in headscarf; check details
KEA has granted permission for candidates to wear hijabs during examinations, despite the persisting religious tensions in the state. The decision to allow hijabs in exams comes after several months of controversy surrounding the wearing of hijabs in educational institutions.
For female candidates wearing hijabs, it is recommended to arrive at the examination centre one hour before the exam for screening. Embroidered, floral, brooches, full-sleeved dresses, and jeans pants are not allowed. 
The upcoming exam, scheduled for October 28 and 29, aims to fill various positions within corporation boards. KEA has clarified that candidates opting to wear hijabs during the exam must adhere to specific guidelines. 

Karnataka SSLC Exam 2022: Muslim students follow HC order, remove hijab and enter exam centers
The Udupi Hijab controversy in Karnataka, which erupted in late 2021, involved female students in Karnataka seeking to wear hijabs as part of their school uniforms. This led to protests and legal disputes. The case raised broader debates about the balance between religious expression and dress codes in Indian schools.
As part of the guidelines, KEA has specified that women candidates wearing hijabs should refrain from wearing jeans and full-sleeve shirts during the exam. This directive has sparked controversy and opposition from various quarters, with many questioning the need for such distinctions.
Last Updated Oct 21, 2023, 12:38 PM IST