Saudi Arabia Crown Prince Mohammed bin Salman accorded ceremonial welcome at Rashtrapati Bhavan (WATCH)
Prime Minister Narendra Modi is hosting Saudi Arabia's Crown Prince Mohammed bin Salman, aiming to transform the Middle-East corridor project into a reality and strengthen diplomatic relations with the rapidly emerging West Asian global powerhouse.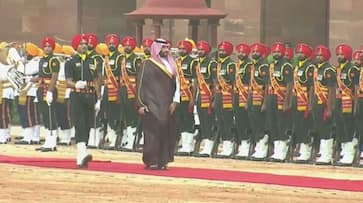 Mohammed bin Salman bin Abdulaziz Al Saud, Crown Prince and Prime Minister of Saudi Arabia, was accorded a ceremonial reception at the Rashtrapati Bhavan on Monday.
Prime Minister Narendra Modi is hosting Saudi Arabia's Crown Prince Mohammed bin Salman, aiming to solidify bilateral ties and advance the Middle-East corridor project. Their discussions in New Delhi on Monday are expected to result in several significant agreements, particularly in the fields of energy and agriculture. 
This marks the Saudi Crown Prince's second state visit to India since February 2019 when he arrived in Delhi for the G20 Summit. His stay was extended to engage in bilateral talks with PM Modi.
The bilateral meeting at Hyderabad House, a symbol of diplomatic relations and international collaboration, will encompass various subjects, including politics, security, defense, trade, economics, and culture. The formal signing of the minutes of the first meeting of the India-Saudi Strategic Partnership Council will underscore the comprehensive nature of the partnership.
With a strong personal relationship built on mutual trust between Prime Minister Narendra Modi and Prince MBS, India and Saudi Arabia are poised to strengthen their ties. Riyadh is keen to invest in India and is open to exploring Rupee-Riyal trade for oil exports to India. The two nations share close strategic and security bonds and share a common stance against religious radicalization propagated by groups like the Muslim Brotherhood and terrorist organizations like Al Qaeda.
In the evening, President Droupadi Murmu will receive the Saudi Crown Prince at Rashtrapati Bhavan, providing an opportunity for dialogue that reaffirms mutual interests and addresses regional and global issues of concern to both countries.
The visit of the Saudi Crown Prince follows a significant milestone in economic cooperation, with bilateral trade reaching a record high of $52.75 billion in the fiscal year 2022-23. India and Saudi Arabia hold prominent positions as trading partners, with Riyadh ranking as New Delhi's fourth-largest trading partner and vice versa.
Last Updated Sep 11, 2023, 10:38 AM IST