Republic Day 2023: How to book tickets online, where to watch the parade live; Know all about it
Republic Day 2023: Every day, the tickets will be available online on the official website from 9 am onwards. The users need to provide two phone numbers to address any issues that might occur while booking the tickets. The ticket price ranges between Rs 20 to Rs 500 based on the event and ticket type.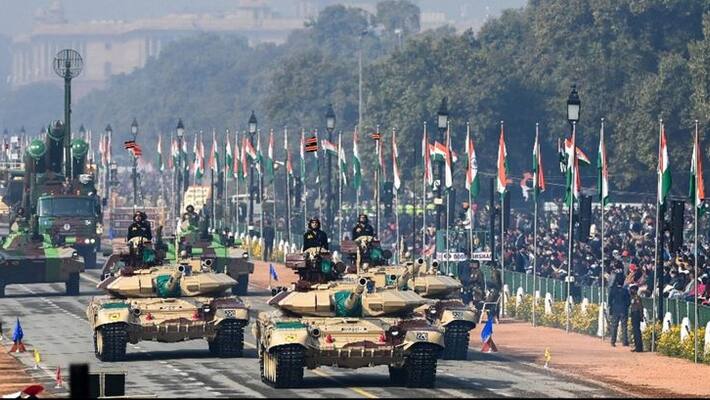 India celebrates Republic Day on January 26 every year. The Constituent Assembly enacted the Constitution on January 26, 1949, and it went into force on January 26, 1950. The prominent event is the Republic Day Parade in New Delhi, which is held on the magnificent Rajpath (now Kartavya Path). 
The Prime Minister of India, the President and Vice President of India, various Central Ministers, as well as other dignitaries, attend the Republic Day Parade. The Republic Day Parade is open to the public as well. Almost everyone may purchase tickets and see the spectacular Republic Day Parade.
Step 1: To buy tickets, go to www.aamantran.mod.gov.in and register for an account or sign in to the account connected to your cell phone. The information that must be submitted includes the user's name, father's or husband's name, date of birth, phone number, and permanent address. then key in your OTP.
Also Read | Republic Day 2023: Agniveers to be part of Naval marching contingent at parade?
Step 2: Decide the event you want to attend. There are a few choices, including the FDR-Republic Day Parade, the Republic Day Parade, the Beating the Retreat Rehearsal, the Beating the Retreat-FDR Ceremony, and the Beating the Retreat. The website will include the various ticket types and quantities that are available right now, along with their prices and enclosures.
Step 3: Complete the registration form for each attendee and upload photo ID. Only 10 tickets may be ordered at once using one contact number or account.
Also Read: Meet Lt Cdr Disha Amrith, the officer who will lead Navy contingent at Republic Day 2023 parade
The website states that in order to prevent having their ticket(s) cancelled, all users must show ID verification that includes their full address. All accepted forms of identification include voter IDs, Aadhaar cards, licences, and passports. File types must be in the.png or.jpg file format and be under 1 MB in size. No PDFs are acceptable.
Step 4: Make a payment. At the parade's venue, authorities will scan each ticket's unique QR code.
For those who are unable to buy tickets online, offline booths will also be put up in Pragati Maidan, Sena Bhawan, Jantar Mantar, Shastri Bhawan, and the Parliament House.
Also Read: Republic Day 2023: Indian Navy tableau to showcase Make in India and 'Nari Shakti'
Where to watch the parade?
Audiences can watch the grand parade live on Doordarshan TV channel and the Press Bureau of India. It will also be live streamed on Government's official website https://indianrdc.mod.gov.in/
Last Updated Jan 21, 2023, 2:07 PM IST