Popular eatery Niyaaz Hotel courts controversy with biriyani ad on Instagram, Hindu outfits enraged
Belagavi's popular non-vegetarian Niyaaz Hotel landed in trouble after its advertisement on Instagram allegedly hurt Hindu sentiments. The hotel administration used the popular web series Sacred Games season 2 poster and also used the caption 'Guruji after tasting Niyaaz, Biriyani Dena Hoga'. Taking objection to this, VHP has issued a warning and called for the shut down of the hotel.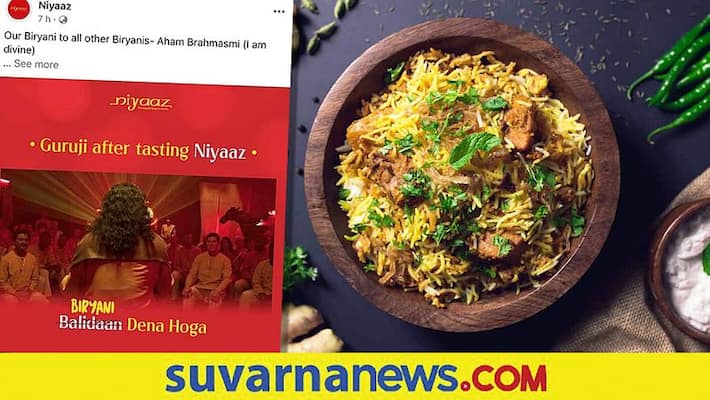 At times creative thinking can land people and products in trouble and that is what happened to a popular hotel known for finger-licking briyani, Hotel Niyaaz after its advertisement on Instagram went off track and allegedly ended up hurting religious sentiments.
Belagavi which also has a sizable presence of the Lingayat section and houses Hindu religious mutts and seers is hurt.
The hotel administration used a poster from Sacred Games 2, a popular web series and altered its text and caption.
In the hotel brand page, the management has written 'Our Briyani to all other Biryanis-Aham Brahmasmi ( I am divine) and the text of the poster with a seer in saffron clothes turning his back says 'Guruji after tasting Niyaaz', Biriyanu Dena Hoga'.
The idea has not gone well with Vishwa Hindu Parishad and Bajrang Dal as they issued a warning of shutting down the hotel permanently if the management does not seek a public apology and also take down the advertisement.
Following the backlash, the management has taken down the controversial advertisement from its Instagram page and also has apologised for hurting religious sentiments.
"We deeply apologise for today's Instagram post of Sacred Games season 2, intended as a meme. We sincerely regret hurting sentiments. We have taken down the post," said the management via post.
The hotel at the private bus stand in Belagavi is now temporarily shut. And anticipating a law and order situation as hundreds of activists and the public started gathering, the Belagavi police deployed a platoon at the hotel premises.
 
Last Updated Aug 13, 2021, 6:42 PM IST