Kerala News Highlights: Heavy rains to continue in Kerala; Yellow alert in 6 districts
Kerala News Highlights: Heavy rains to continue in Kerala; Yellow alert in 6 districts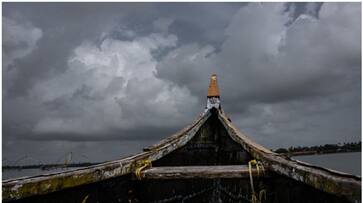 3:20 PM: 70- year-old dies of wasp attack in Thrissur
A 70-year-old man died after being stung by a wasp during his working hours in Edathiruthy in Thrissur district on Thursday( 0ct 12). The deceased was identified as Thilakan, native of Kammayi in Thrissur. 7 people were stung by the wasp. Those who were stung by the wasp, including Thilakan, were rushed to the hospital, however his life could not be saved.
---
1.30 PM: Heavy rains to continue in Kerala; Yellow alert in 6 districts
The India Meteorological Center has predicted widespread rain with thunder and lightning in the state today. Isolated heavy rain is likely over hilly areas. A yellow alert has been declared in Pathanamthitta, Ernakulam, Idukki, Thrissur, Palakkad and Malappuram districts today.
---
12.00 PM: Actress harassment on flight: Accused files anticipatory bail plea in Ernakulam court
In connection with an actress harassment case, the Thrissur native Anto filed an anticipatory bail plea in the Ernakulam District Session Court. Anto said that there was only a dispute related to the window seat and refuted allegations of harassment. Anto, in the petition, said that the flight crew had intervened and solved the problem.
Kerala actress claims co-passenger harassed her onboard Air India flight
---
11.30 AM: Appointment bribery case: Accused Akhil Sajeev remanded for 14 days
The accused in the appointment bribery case Akhil Sajeev was remanded today for 14 days and will be taken to Kottarakkara jail. Pathanamthitta police also recorded his arrest in the Spices Board appointment. The Cantonment police from Thiruvananthapuram will reach Kottarakkara jail with a production warrant and take Akhil into custody for further questioning. Former AISF leader KP Basith has been sent to 5-day police custody. He admitted to the Cantonment Police that he used the name of the Health Minister Veena George's office to extort money from Haridasan.
---
11.15 AM: Chinese Ship Zhen Hua enters Vizhinjam harbour
Read More: Kerala's Vizhinjam International Seaport set to welcome first ship, China's Zhen Hua; What you must know
---
11:02 AM: Smoke detected in coaches of Bangalore- Kanyakumari Express
A smoke was noticed coming from the coaches of the Bangalore-Kanyakumari Express on Wednesday(October 12). The smoke was noticed in the B5 coach when it reached Thrippunithura station. The passengers raised the fire alarm and stopped the train. A short circuit in the AC unit caused the smoke. The electrical crew fixed the problem.
The train was coming from Bangalore. After repairing the train, it left for Kanyakumari.
---
10:34 AM: Kerala woman lawyer goes missing from Ahmedabad
A Kerala woman lawyer has gone missing from Ahmedabad on Monday(Oct 9). Gujarat High Court advocate Sheeja Girish is missing. The family has filed a complaint with the police. According to the family, the woman went missing while she was travelling by train from Ahmedabad to Mumbai on Monday (Oct 9).
---
10:09 AM: Malayalam actor Binu B Kamal arrested for allegedly sexually assaulting a woman in a bus
Malayalam actor and comedian named Binu B Kamal has been arrested on charges of sexual assault. The Vattapara police took him into custody after a 21-year-old woman accused him of sexually assaulting her on a KSRTC bus.
---
9.45 AM: Man dies of elephant attack in Ullikkal; body found in town
A man identified as Jose, a resident of Athrassery was found dead in Ullikkal town due to the wild elephant attack. MLA Sajeev Joseph said that he was trampled by the elephant.
---
9.30 AM: The first ship to Vizhinjam port is moving into the project area. Asianet News exclusively received the first visuals.
---
9.15 AM: Kerala pilgrim group from Israel lands in Kochi
The Pilgrim group from Ernakulam, stuck in Israel landed in Kochi airport today. They arrived home safely through Egypt. Aluva native Maulavi and his family said that they were scared in the first hour of the war. Maulavi said that they crossed the border accompanied by a security officer.
---
8.35 AM: Actress harassment case on Air India: Police directs co-passenger to appear at station
Nedumbassery police are continuing their investigation in the case of misbehavior with a young actress onboard Air India flight. According to the statement of the actress, the police have instructed the passenger named Anto to appear. The actress complained that when she was traveling from Mumbai to Kochi the other day, the passenger next to her had misbehaved under the influence of alcohol. 
---
8.32 AM: Kerala's Vande Bharat Express likely to have stoppage at Chengannur station
Union Minister V Muraleedharan said that one more stop may be newly allowed for Vande Bharat Express in Kerala amid hopes that there will be sympathetic decisions from the central government on such demands. The demand for a stop at Chengannur is under consideration by the Central government, he said.
---
8.28 AM: Kerala HC to consider petition over air ticket price hike today
The Kerala High Court on Thursday (Oct 12) will consider the petition seeking to control the increase in air travel fares. Expatriate businessman K Zainul Abdeen approached the court. It is said in the petition that there is no standard rate increase and this rate increase is putting common expatriates in financial crisis. The petition also states that airlines charge four times the actual fare during festival seasons. Justice Devan Ramachandran has directed to join the Central Aviation Department as a party in the petition.
---
7.58 AM: Kerala to receive rainfall with thunder today; Yellow alert in 5 districts
The reason for the continued rains in Kerala is the presence of a cyclone formed over Karnataka. In this situation, a yellow alert has been declared in 5 districts today including Pathanamthitta, Idukki, Ernakulam, Thrissur and Palakkad districts. The India Meteorological Department has also informed that there is a possibility of moderate/moderate rain with thunder and lightning at isolated places in Kerala for the next 5 days.
Last Updated Oct 12, 2023, 4:57 PM IST