Kerala actress claims co-passenger harassed her onboard Air India flight
A young actress has filed a complaint with the Nedumbassery police against a co-passenger on board an Air India flight when the latter inappropriately touched her and argued with her.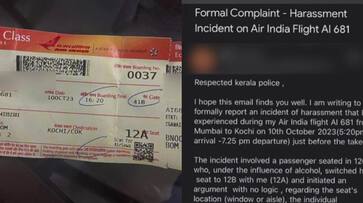 Kochi: A young Malayalam actress lodged a complaint with the police alleging harassment on board an Air India flight on Tuesday (Oct 10). A passenger misbehaved and inappropriately touched the actress, the actress said in the complaint. The co-passenger was reportedly in an inebriated state. 
The incident allegedly took place on Tuesday evening on an Air India flight between Mumbai and Kochi, according to her complaint. Later, the Nedumbassery Police began an investigation after filing a case.
Also read: Kerala: Karthyayani Amma, oldest literate woman in the state, passes away
In the complaint, she stated, " The incident involved a passenger seated in 12C who, under the influence of alcohol, switched his seat to 12B with me (12A) and initiated an argument with no logic, regarding the seat's location (window or aisle), the individual misbehaving, including inappropriate physical contact. I promptly reported the matter to the Air hostess on the flight. However, the only action taken was my relocation to a middle seat three, four rows ahead."
"I kindly request you to consider this email as a formal complaint and initiate an investigation into the matter. The safety and well-being of passengers should be a top priority, and I believe a thorough examination of this incident is crucial. Please let me know if any additional information is required from my end to facilitate the investigation," she added in the complaint.
After the plane landed in Kochi, she subsequently lodged a complaint with the Air India office and Police Aid Post. Additionally, she made an official complaint to the Nedumbassery Police. The accused may be a native of Malayali, according to the police.
 
Last Updated Oct 11, 2023, 11:29 AM IST