Kerala News Highlights: Heavy rains to continue in Kerala; Yellow alert in 2 districts
Kerala News highlights: Heavy rains to continue in Kerala; Yellow alert in 2 districts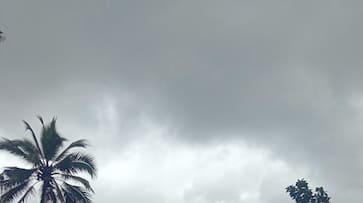 4:15 PM: Lawyer beaten up in Nedumangad court
A lawyer was beaten by a pardoned witness who came to court to testify in Nedumangad Court on Wednesday, October 4. The accused was identified as Shah Jahan, who had come to testify in a case, He had an argument with a lawyer that led to an altercation. Shah Jahan was taken into custody by Nedumangad police.
---
3:45 PM: Senior Civil police officer found dead inside his home in Muvattupuzha
A senior civil police officer was found dead inside the house. The deceased was identified as Jobi Das, a native of Shaktipuram, Muvattupuzha. He was working as a driver in Kalamassery AR Camp. As per reports, the preliminary conclusion is that it is suicide.
---
3:30 PM: ST Jewellery owner Sunil Kumar did not appear for ED questioning regarding Karuvannur scam
Sunil Kumar, the owner of ST Jewellery, did not appear for the interrogation in connection with Karuvannur Bank fraud case. A notice was sent to him for interrogation. He did not appear today and yesterday despite issuing notices. Meanwhile, Sunil Kumar sought treatment at a private hospital in Thrissur
---
2:45 PM: Karuvannur Scam: CPM counsellor Madhu reaches ED Office for interrogation
CPM counsellor Madhu Ambalapuram reached the ED office in connection with the Karuvannur bank fraud case. 
---
2:00 PM: Heavy rains to continue in Kerala; Yellow alert in 2 districts
Chances of heavy rain in isolated places in Kerala today. Meanwhile, the India Meteorological Department has issued a yellow alert in two districts, including Thiruvananthapuram and Kollam. Fishing is prohibited in the coastal areas of Kerala and Lakshadweep.
---
1.00 PM: Appointment bribery case: Raheez to be produced before court today
Raheez, who was arrested in the appointment bribery case against the health minister's office, will be produced in court today. According to the police, it was Raheez who prepared and emailed the fake appointment order to the daughter-in-law of Haridas who made the complaint. However, the complainant did not appear to give statements.
---
12.45 PM: Trial begins in Aluva child murder case
The trial has started in the case of rape and murder of a five-year-old girl in Aluva. The child's parents are being examined first. The proceedings are held in a closed courtroom. 
---
12:15 PM: Entry to all beaches in Thiruvananthapuram banned until further notice
District Collector Geromic George has announced that entry to all beaches in Thiruvananthapuram district has been banned until further notice. The action is taken in view of the continuing heavy rains in the district and the fact that the India Meteorological Department and the State Disaster Management Authority announced an orange alert in the district the previous day.
---
11:55 PM: Dialysis units damages in Idukki General Hospital; complaint sent to health minister
The dialysis units in Idukki District Hospital have been damaged, and this has caused many issues for the patients admitted there. The machines in the dialysis units are not working. The patient's association approached the health minister, demanding the repair of faulty dialysis. Meanwhile, the hospital stated that the damaged unit would be repaired soon.
---
11:30 AM: Kerala: Rain will continue in the state for the next 4 days
Rain will continue for the next 4 days in the state. Rain will continue to lash in isolated places. Moderate to heavy rainfall with thunder and lightening may occur in the state from Monday (Oct 9).
---
10.00 AM: CPI not to oppose Rahul Gandhi contesting from Wayanad again
CPI national leadership will not oppose Congress leader Rahul Gandhi contesting in Wayanad again. CPI General Secretary D Raja told Asianet News that each party has the right to decide its candidates. 
---
9:30 AM: Supreme Court to hear A Raja's appeal against high court verdict
The Supreme Court will hear A Raja's appeal against the Kerala High Court verdict cancelling the Devikulam elections today(Oct 4) . A bench headed by Justice Aniruddha Bose is hearing the petition. The Supreme Court had earlier stayed the High Court verdict
---
9:10 AM: Kerala State Cabinet meeting to be held today
The state cabinet meeting will be held today(Oct 4). The cabinet meeting will evaluate the government's measures regarding the resolution of the problems in the cooperative sector including the Karuvannur crisis. Yesterday, the Minister had a meeting with the top officials of the Cooperative Department and Kerala Bank.
---
8:50 AM: Delhi Keralites to organise action council meeting over social activist's death
Delhi Keralaites will organise an action council meeting regarding the death of a Kerala activist in Delhi. The first meeting will be held on Saturday (Oct 7). Meanwhile, the Federation of All India Marunadan Malayali Association (FAIMA) Maharashtra state unit has filed a complaint with the Kerala Chief Minister and other Union Ministers demanding a strong investigation into the incident.
---
8.12 AM: Job scam linked to Health Minister's office: Police record first arrest
On Tuesday, an individual involved in the fake job scam linked to the office of Kerala's health minister Veena George was taken into custody by the Cantonment Police. Advocate Raheez, a native of Kozhikode and a friend of the accused Akhil Sajeev,  who was named accused in the case was taken into custody. Raheez was allegedly involved in creating fake emails and letters under the names of the minister's personal assistant and Arogya Kerala.
---
8.04 AM: Widespread rainfall in state today; Holiday for educational institutions in capital
Kerala will continue to receive widespread rainfall today. Although there is no specific rain warning in any district, heavy rain is expected in isolated places. Even today there is more chance of rain in south Kerala. Fishing is prohibited in Kerala and Lakshadweep coasts. Due to incessant rainfall, a holiday has been declared for all educational institutions in the capital city on Wednesday (Oct 4). District collector Geromic George said in a release that the holiday will also apply to professional colleges and Kendriya Vidyalaya. 
Read More: Kerala rain update: Holiday declared for all educational institutions in Thiruvananthapuram tomorrow
Last Updated Oct 4, 2023, 9:17 PM IST