Joshimath 'sinking': Government announces immediate compensation; hotel demolitions in a week
Joshimath 'sinking': The government announced compensation to the hotel owners based on the market value of the establishments that must be demolished, a day after locals and business owners protested and halted the government's demolition work.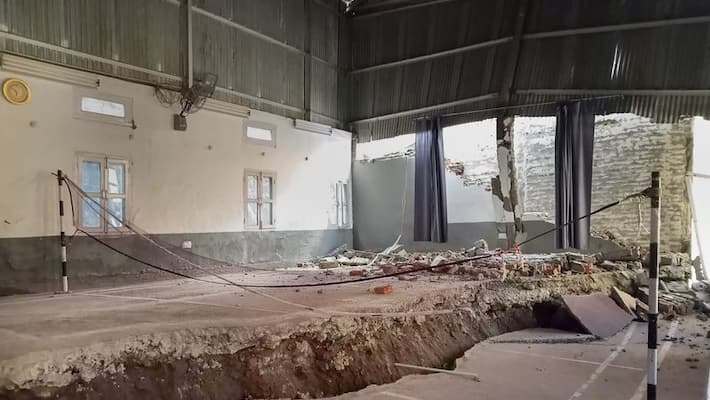 The Uttarakhand government announced Rs 1.5 lakh interim relief to each affected family in Uttarakhand's 'sinking' town Joshimath, on Wednesday, January 11, 2023, a day residents and hotel owners staged protests, and demanded adequate compensation ahead of the first demolitions of buildings, which are 'unsafe' to live in. 
The hotel owners on Tuesday threatened self-immolation if officials 'forcefully tried to demolish his property' without adequate compensation. Two hotels were dangerously close to each other, posing a risk to human settlements nearby.
Secretary to Uttarakhand state minister Pushkar Singh Dhami, R Meenakshi Sundaram, met with the residents and owners of the establishments to discuss the matter. While talking to the media, she said that Rs 50,000 of the relief sum had been provided in advance to the  Joshimath residents to relocate. 
Over 86 properties have been marked as 'unsafe.' So far, 723 houses have developed cracks, and 462 people from 131 families have been relocated to temporary relief camps. She added that the survey of the affected building was ongoing, and people were temporarily relocated to safer locations.  
Additionally, Sundaram said orders had been given to demolish two hotels. "These two hotels are posing a threat to the nearby buildings. Apart from that, no buildings are currently being demolished."
Sundaram insisted that the government offered all possible assistance to the affected residents. "Those who rent houses will receive Rs 4000 monthly for six months."
Previously, Sundaram informed residents that anyone affected by the subsidence would be compensated at market value. "The market rate will be fixed in the public interest after considering stakeholder suggestions."
"Compensation will be given according to the amount paid in Uttar Kashi. Compensation like Badrinath is not possible here," Sundaram continued. 
The government ordered the demolition of unstable structures on Monday, beginning with the two hotels. Residents opposed State Disaster Relief Force personnel and heavy machinery arrived at the scene. Protesters said there was no word on how residents whose homes would be demolished would be compensated.
Also Read: Centre to install micro-seismic observation systems at 'sinking' Joshimath; check details
Also Read: Joshimath 'sinking': Construction work at NTPC site halted as evacuations continue
Also Read: Joshimath land subsidence: Supreme Court declines urgent hearing, says 'institutions working on it'
Last Updated Jan 11, 2023, 2:50 PM IST