Israel-Palestine War: This Kerala district continues to provide uniforms to Israel police
In the midst of the Israel-Hamas war, the former has placed an order in Kerala for a new set of police uniforms. For the past eight years, hundreds of tailors from a local clothing unit in Kannur have been working relentlessly to prepare the uniform shirts for the Israel police force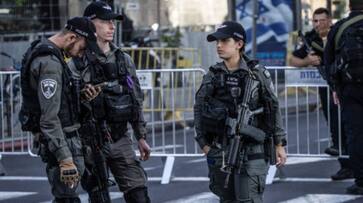 Kannur: Kerala's political parties and their leaders can hold different opinions on the continuing conflict between Israel and Hamas over Gaza. However, a group of people in a quiet town in north Kerala have been tirelessly "working" for Israel both before and after the fatal attack by Hamas on October 7 that targeted citizens in that nation. For the past eight years, hundreds of tailors from a local clothing unit in Kannur have been working relentlessly to prepare the uniform shirts for the Israel police force. The volatile political region of Kannur is also renowned for its illustrious history of handloom production and textile export.
The elegant, long-sleeved light blue uniform shirts worn by the Israeli police are made by the tailors and staff of Maryan Apparel Pvt Limited in the region. The unit not only creates the double-pocket shirts but also designs and affixes the trademark emblems to its sleeves.
The proprietor of the garment division, a Kerala businessman living in Mumbai named Thomas Olickal, currently has approximately 1,500 trained employees. The Israeli police contacted the company even after the war started and placed extra orders for more uniforms, according to Thomas, a native of Thodupuzha in the Idukki district.  He said they placed an order for a new product from this year and the first shipment would be made by December.
The business, which was established in 2006 at this city's government-run Kinfra Park, focuses on providing uniforms for soldiers, police officials, security guards, and healthcare staff from different nations. It also supplies school uniforms, dresses for supermarket staff, doctors' coats, coveralls, corporate wear and so on.
The goal of the clothing unit's establishment in Kannur was to give locals who had lost their jobs as a result of the region's traditional beedi industry's decline work opportunities. Thomas claimed that after learning that his business specialised in uniform manufacturing, the Israel police had contacted him. 
 
Last Updated Oct 19, 2023, 4:37 PM IST