Sanatanis beware, INDIA bloc aims to abolish Sanatana Dharma: PM Modi in Madhya Pradesh (WATCH)
"This INDI alliance doesn't have a leader... they have also decided on a hidden agenda to attack India's culture. The INDI alliance has come up with a resolution to end 'Sanatan' culture..." PM Modi said while addressing a gathering in poll-bound Madhya Pradesh's Bina.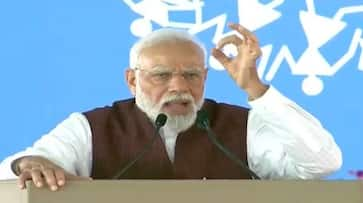 Prime Minister Narendra Modi has offered his first response to the controversial remarks against Sanatana Dharma made by Tamil Nadu minister Udhayanidhi Stalin. Addressing a gathering in poll-bound Madhya Pradesh's Bina after laying the foundation stone of projects worth more than Rs 50,700 crore, PM Modi slammed the INDIA bloc. He said, "Sanatana connected Bharat for thousands of years; I.N.D.I.A bloc aims to abolish Sanatana Dharma."
In his address, Prime Minister Modi characterized the self-centred INDIA alliance as proponents of a 'Politics of Division.' He emphasized, "The individuals associated with this INDIA alliance harbour intentions to obliterate the 'Sanatana Dharma,' which has historically been a wellspring of inspiration for luminaries like Swami Vivekananda and Lokmanya Tilak. Their agenda revolves around dismantling 'Sanatana Dharma,' and today, they have embarked on a public campaign to target it. It is foreseeable that their assaults will intensify in the future. All individuals who hold 'Sanatana' values dear and those who cherish our nation must remain vigilant. Together, we must thwart the efforts of such individuals."
These statements follow Uttar Pradesh Chief Minister Yogi Adityanath's declaration that Sanatan Dharma is the "national religion," asserting that all citizens are Hindu. During the unveiling of the flagstaff at Srinath temple in Indore, he emphasized the eternal nature of Sanatana Dharma.
Adityanath elaborated that "Hindu" is not merely a religious term but rather a cultural identity that encompasses all Indians. He lamented attempts to narrow the definition of Hindu identity, citing an example where Muslims from India, Pakistan, and Bangladesh are referred to as Hindus in Saudi Arabia during Hajj pilgrimages. According to him, "Hindu" is not associated with caste but symbolizes a cultural salutation to Bharat.
Yogi Adityanath drew from ancient scriptures, citing two Shlokas that identify anyone residing in Hindustan as a Hindu. He criticized those attempting to erase these Puranic concepts and the originality of Bharat, accusing them of distorting history and deceiving the present.
Addressing the controversy surrounding DMK leader Udhayanidhi Stalin's remarks on Sanatan Dharma, Adityanath remarked that some individuals denounce Sanatana Dharma despite residing in Bharat, challenging its values, principles, and ideals. He noted that such challenges to the existence of God have occurred throughout history and are not unique to the present.
Last Updated Sep 14, 2023, 1:11 PM IST