Chandrayaan-3: ISRO says Pragyan rover put into 'sleep mode', may wake up on Sept 22
ISRO said that it is hoping for a successful awakening of the rover Pragyan on September 22 - which is when the next sunrise is expected. The Chandrayaan-3 Lander Module safely landed on the Moon's South Pole on August 23.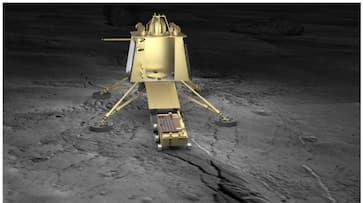 The Indian Space Research Organisation said that the Pragyan rover on the Moon has been put to sleep. The Space Centre plans to reawaken it after 14 days. ISRO also informed that the next sunrise is expected on September 22, 2023, and hoped for a successful awakening for another set of assignments.
The Alpha Particle X-ray Spectrometer (APXS) and the Laser Induced Breakdown Spectroscope (LIBS) are the rover's two payloads. The payloads that use the lander to relay data to the Earth are disabled. "The solar panel is oriented to receive the light at the next sunrise expected on September 22, 2023," ISRO said in a post on X, formerly known as Twitter.
Also Read | G20 Summit: Bulletproof limousines, CCTVs with face recognition tech among multiple security measures deployed
The Pragyan rover will serve as India's lunar ambassador for all time if it does not experience a "successful awakening".
The Pragyan rover and the Vikram lander had been working in tandem to gather valuable scientific data. The APXS and LIBS payloads are designed to analyze the elemental and mineralogical composition of the lunar soil and rocks.
Also Read | Aditya-L1 successfully separated from PSLV after solar mission launch: ISRO chief S Somanath
After the Vikram lander's successful landing, the Pragyan lunar rover was launched.  On August 23, 2023, Chandrayaan-3 made a successful landing on the Moon's surface. India became just the fourth nation, thanks to the mission, to make a soft landing on the moon's surface.
Last Updated Sep 3, 2023, 11:03 AM IST